Elecrow Special PCBA Promotion: 0 Soldering Fees for PCBA Sample Orders of 10pcs or Below
Prologue
When it comes to prototyping and testing electronic circuits, printed circuit board assembly (PCBA) plays a critical role. It allows engineers and designers to turn their circuit designs into functional prototypes or small production runs. However, for small projects or initial sample orders, the cost of PCB assembly can sometimes be a barrier. That's where Elecrow, a leading PCB fabrication and assembly service provider, comes in. Elecrow offers the latest special promotion on PCB assembly services starting from 12th, Sep: 0 soldering fees on your PCBA sample orders of 10 units or less! In this blog post, we'll delve into the details of Elecrow's free soldering offer and explore the benefits it brings to electronics enthusiasts, entrepreneurs, and product developers.
Understanding Elecrow PCB Assembly
Elecrow is a reputable company that specializes in PCB manufacturing, PCB assembly, and prototyping services. Elecrow provides a comprehensive range of services to cater to varying project requirements. Whether you need a single-sided PCB or a complex multi-layered board, Elecrow can handle it all.
The PCB assembly services provided by Elecrow involve the integration of electronic components onto a bare PCB. This process includes soldering the components onto the board, ensuring proper connectivity, and performing functional testing to validate the design. Traditionally, PCBA services involve additional costs, such as component sourcing, labor, and equipment. However, Elecrow's innovative approach aims to make the PCB assembly process more accessible and affordable, particularly for small-scale projects and initial sample orders.
Free Soldering for PCBA Sample Orders of 10pcs or Below
Elecrow's offer of free soldering for PCBA sample orders of 10 PCs or below is a game-changer in the electronics industry. This offer addresses the needs of individuals or businesses looking to validate their designs or test their products in small quantities without incurring significant expenses. By eliminating the cost of soldering, Elecrow allows designers to focus their budget on other crucial aspects of the project, such as component selection, quality control, and testing.
Benefits of Elecrow's Free Soldering Offer
Cost Savings: For designers and entrepreneurs working on a limited budget, the cost of PCB assembly can be a major concern. Elecrow's free soldering services for sample orders of 10 PCs or below help alleviate this financial burden, making PCB assembly more affordable and accessible.
Rapid Prototyping: Prototyping is an integral part of the product development cycle. With Elecrow's free soldering offer, designers can quickly iterate and test their designs without the worry of incurring significant costs. This enables faster product development and shorter time-to-market.
Quality Assurance: Elecrow is known for its commitment to quality. Despite the free soldering offer, they ensure that the assembly process maintains high standards and adheres to industry best practices. By leveraging their expertise, designers can be confident in the reliability and functionality of their prototypes.
Flexibility: The free soldering offer extends to sample orders of 10 PCs or below, providing flexibility for designers to experiment with different designs and configurations. This allows for better optimization of the circuit and the identification of any potential issues early in the development process.
How to Enjoy Elecrow's 0 soldering Fee Activity!
Step 1: Accessing the PCB Assembly Order Page
To get started, visit Elecrow's website at https://www.elecrow.com/services.html. This is where you'll find the dedicated PCB assembly order page, designed to streamline the process and make it accessible to users worldwide.
Step 2: Uploading the Bill of Materials (BOM)
Once on the PCB assembly order page, follow the provided format to upload your Bill of Materials (BOM). The BOM is a detailed list of components required for the assembly process. Ensure that you have the necessary information readily available, including part numbers, quantities, and specifications.
Step 3: Selecting PCB Parameters
Elecrow understands that each project has unique requirements. On the order page, you'll have the opportunity to choose the specific parameters for your PCB. This includes selecting the desired dimensions, number of layers, surface finish, PCB qty, and any additional features or customizations you may need.
Step 4: Assembling Parameters and Shipping Options
In this step, you'll indicate the quantity of PCBs you require for your sample order. It's important to note that the free soldering offer applies to orders of 10pcs or below. If your order exceeds this quantity, regular pricing will apply for the additional units. Additionally, select your preferred shipping method and indicate the destination country.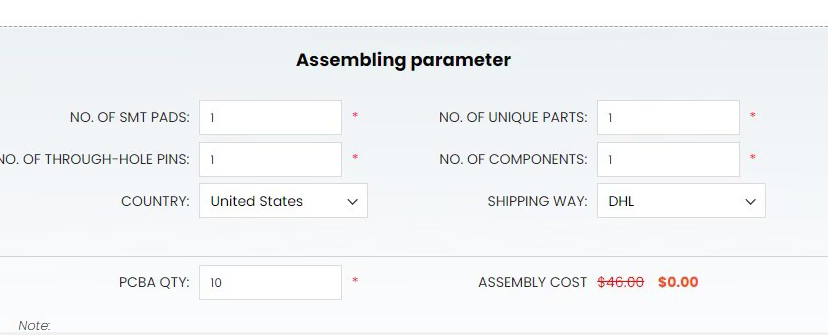 Step 5: Upload and Await Quotation
Once you have provided all the necessary information, upload your data and await the quotation. Elecrow's dedicated team will process your request and generate a quote within 24 hours. You will receive the quotation via email, and it will also be available for viewing and download in the Service Order section of your account on the Elecrow website.

Final Words
Elecrow's free soldering offer for PCBA sample orders of 10 PCs or below is a remarkable initiative that empowers designers and entrepreneurs to bring their electronic projects to life without the burden of significant assembly costs. By leveraging Elecrow's expertise and commitment to quality, individuals, and businesses can prototype their designs more rapidly, ensuring a smoother product development journey. The accessibility and affordability of this offer provide an ideal choice for those seeking reliable PCB assembly services for small-scale projects. Whether you're a hobbyist, a startup, or an established company, Join our special 0 soldering fees promotion today and start your projects!
Also, If you are a maker interested in turning your ideas into realistic products and profiting from them, you can even join Elecrow's Partner Seller Program to fulfill it, join our Partner Seller Program to mass produce your ideas into solid projects, sell them online with our professional help and earn your profits here!