Opening words
If you have been a fan of the electronic industry, there must be terms like "HuaQiangBei" always coming to your online search content. As the world's biggest fascinating electronic market, HuaQiangBei electronic market, located in Shenzhen, China, is a vital segment of Shenzhen's hi-tech industry, renowned as " China's Silicon Valley ", which accounted for 20 percent of the city's GDP in 2020. This high-tech park area is also home to technology companies such as Tencent Holdings, ZTE Corp, and DJI.
Each year millions of electronic merchants and suppliers from all across the world come to Shenzhen Huaqiangbei to do component sourcing, whether they are from North America, Europe, South America, the Middle East, Turkey, India, or even Bangladesh. There are hosts of deals being reached each moment when international customers bargain with Chinese sellers in front of shops of only a few square meters. Components are piled up like hills in crowded stores. People filling in small stalls, despite different complexions and languages, shoulder to shoulder, no matter how they dress differently, try to find various electronic components to meet their demands.
Buying and sourcing electronic parts here is so attractive to geeks, the products are cheap with a variety of options which makes Hua Qiang Bei a real shopping heaven for makers.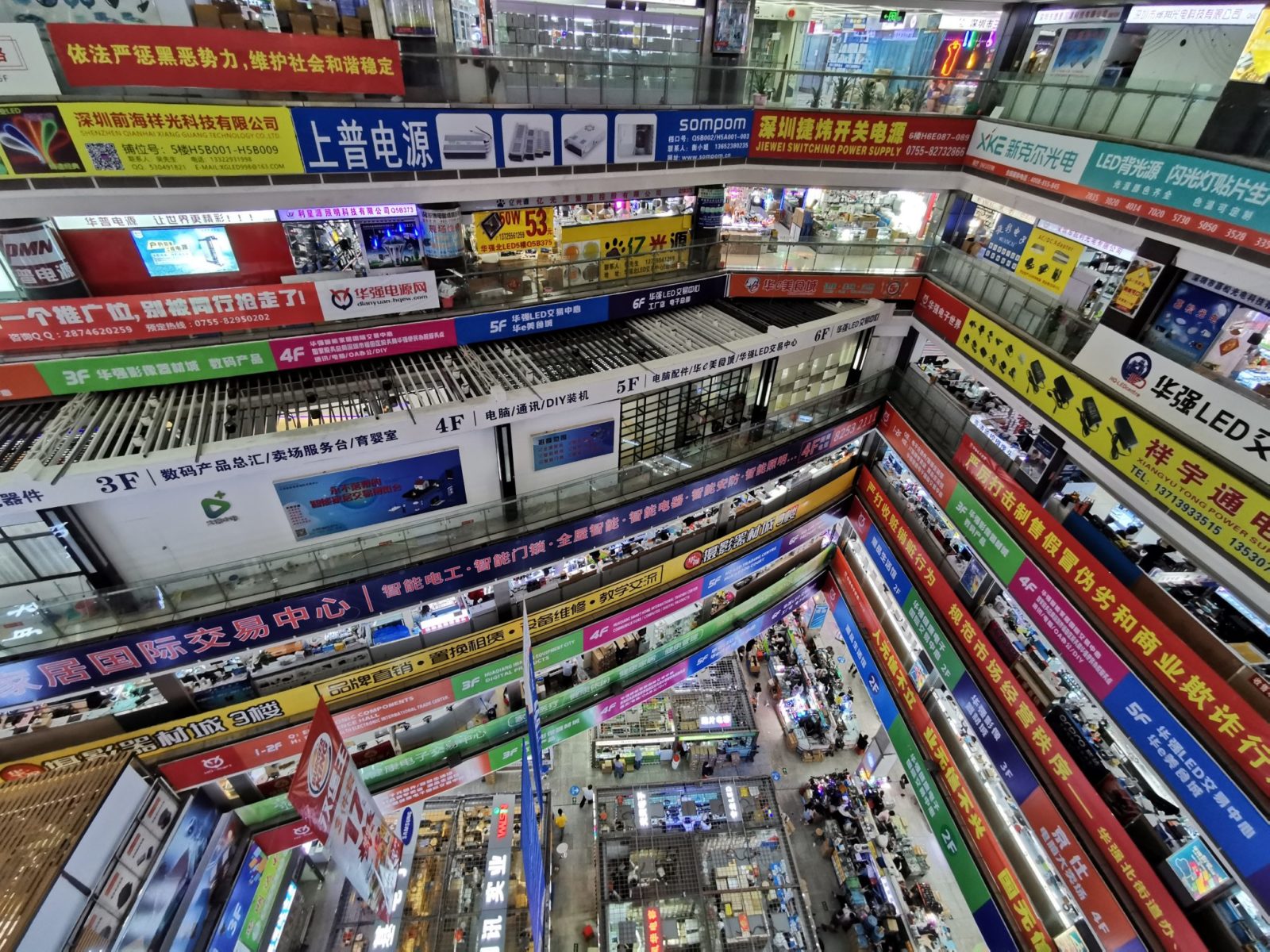 What is the history behind HuaQiangBei?
The North Guangdong Arsenal was relocated to Shenzhen in 1979, and its new plant in Shenzhen was called "Huaqiang", a Chinese word meaning "powerful China". A road near the factory is called "Huaqiang Road", and it is from this that the name "Huaqiangbei" emerged, meaning the area along Huaqiang Road.
A few years later, Fuyuan Ma, chairman of the SEG Group, decided to open a market in Shenzhen similar to Akihabara. In 1988, Ma founded the SEG Electronics Market inside the SEG Industrial Development Building.
Meanwhile, the Huaqiang factory was moved to another location as Huaqiangbei slowly became the CBD of the city, and the emptied plants of Huaqiang were transformed into a 60,000-square-meter electronic market.
After that, the SEG Industrial Development Building was demolished and rebuilt into the SEG Plaza, which has over 70 floors and a business area of up to 160,000 square meters.
With the help of SEG and Huaqiang, dozens of markets appeared in Huaqiangbei, and the electronics industry spread there completely.
As the factory facilities were converted into office buildings and Huaqiang North Road became a major shopping district, the entire area maintained its electronics specialization.
How large is Huaqiangbei?
Over 20 shopping malls are located in the Huaqiangbei area which expands over 70 million square meters of the business area. Huaqiangbei has reached annual sales of over 20 billion CNY while around 130,000 people are employed in the area. There are some special selling stalls only about 1 meter wide which can hold so many products for a variety of choices for buyers.
In the HQB market, vendors prefer to sell their products in big quantities and wholesale buyers are welcome if a customer wants to buy electronic parts more cheaply, consider buying more of what you need.
What can you buy in HuaQiangBei?
Huaqiangbei Electronics Market is a great place for component sourcing, as a comprehensive commercial area, it offers a wide range of products such as cell phones, second-hand cell phones, computers, electronic components, clocks, electric appliances, audio-visual products, and digital electronic products... Clothing, jewelry, and daily necessities are also available. Tech geeks can enjoy a lot when getting immersed in a variety of choices.
Famous malls in Huaqiangbei to source electronics
In Huaqiangbei, It's never rare to see dropped SMT components and bits of tape on the ground, and so many tech engineers have their component sourcing here carrying around stacks of reeled parts.
Huaqiangbei, consisting of several malls, provides a lot of choices for electronic enthusiasts for sourcing electronics, components, and gadgets, more information about those malls is listed below.
SEG Electronics Market, the very renowned building houses 10 floors aiming at products like electronic cables, tools, parts, PC, laptops, GPS, and all sorts of gadgets, etc. Wearable devices, fitness trackers, and smartwatches are also provided here.
Manhar Digital Plaza houses drone stores and retail mobile phones, wholesale deals can be made here.
Yuanwang Digital Mall focuses mainly on mobile phones, computers, gadgets, iPhone & iPad cases, and peripherals while several stores sell drones, DJI drones, and accessories at good prices. It's not difficult to buy toy quadcopters here as well.
Huaqiang Electronic World is a building with new and second-hand products on shelves, customers also can find electronics repairs, tools, chips, LED products, cables, etc here.
You can find smartphones, android tablets, and iPad cases in SED Electronic Communication Market. Wholesale and retail are both available.
If you want to buy wholesale second-hand or old-version phones, go to Longsheng Mobile Phone Market to find some surprises.
Aside from these above, Chinese chain store electronics retailers Gome and Sunning have their selling outlets in HuaQiangBei.
Clothes, and fashion products in Huaqiangbei
Besides electronic products, Huaqiangbei even sells products for fashion and cosmetics. There are also many fashion and accessory markets and even art displays in HuaQiangBei. Clients can go to Huaqiang North Metro Commercial Street, 9 Square Mall, and other shopping markets here to find the products they want.
How to get to Huaqiangbei?
Consider taking direct flights to Shenzhen Bao'an International Airport which handles flight lines to major cities in the world, including London (Heathrow Airport), Frankfurt, Los Angeles, Johannesburg, Moscow, Paris (Charles de Gaulle Airport), Tokyo, Bangkok, Seol, Manila, Vancouver, etc.
You can visit the official website of Shenzhen Bao'an International Airport for more details.
If your city airport doesn't provide direct flights to Shenzhen, then consider flight transfer. For instance, if you live in Kinshasa, the Republic of Zaire, you can transfer to Doha, Qatar, and then from Doha to Shenzhen.
Resort to Hongkong for your transition stop. Hongkong is much more famous and influential as an international business and financial center. There are a lot of flight lines direct there. Take the flight to Hongkong and then go from Hk to Shenzhen.
You can visit the official website of Hong Kong International Airport for more details.
It nearly takes 30-70 minutes for one to travel from Hong Kong to Shenzhen (including 20-40 minutes for customs clearance). There are so many ways for you to go from HK to Shenzhen: metro, bus, ferry or taxi, whatever you want.
Ferry Routine: Take the ferry from HK airport to Shekou or Fuyong Ferry Terminal in Shenzhen
Metro Routine:
From - to: Hong Kong Downtown → Lo Wu (罗湖) on Hong Kong MTR East Rail Line → Luohu Port (罗湖口岸) → Luohu on Shenzhen Metro Line 1 → Shenzhen Downtown
From - to: Hong Kong Downtown → Lok Ma Chau (落马洲) on Hong Kong MTR East Rail Line → Futian Port (福田口岸) → Futian Checkpoint on Shenzhen Metro Line 4 → Shenzhen Downtown
Time Needed: about 1.5-2 hours
...
When you arrive in the Shenzhen downtown area, it generally takes you less than 10 minutes to cover the distance of about 4.3 kilometers to Huaqiangbei. You can go there by taxi, bus, Metro, or even by walking from your hotel!
The following is a Metro Map of Shenzhen: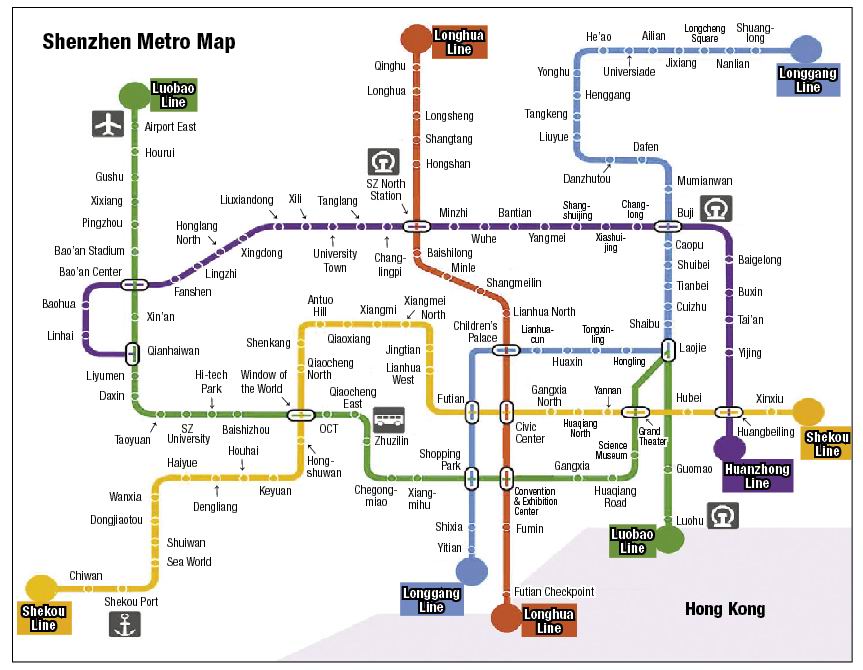 What are the downsides of HuaQiangBei?
There is a big possibility that you will have a harsh time finding the right components you want when you come to Huaqiangbei for the first time as a stranger. There are many cheap but quality-to-be-checked products here, so it's necessary and problem-avoiding for you to do detailed research on Huaqiangbei before you really strike deals here. It takes time.
There are many buildings spread out over a large area, so it might take you all day to find what you need.
Generally, the vendors won't be that good in English.
It is difficult to know who is a trader and who is a manufacturer.
You can't always find components with very good quality in HuaQiangBei in a short time.
However, Elecrow can help you sip the good-quality components out of the ambiguous ones.


What Elecrow can offer you

Elecrow is a one-stop-solution platform providing services for tech geeks and makers across the world, including component sourcing. Elecrow has worked in Shenzhen for years and can help foreign customers reduce the time cost to accurately locate reliable manufacturers and suppliers in Huqaingbei.
Elecrow has strong supply chain sources and can provide you with a variety of components with high quality and competitive prices through various channels. From the resistance, capacitance, inductance, diode and triode, rectifier bridge, and IC to each type of connector, shell, wire/cable, and button, Elecrow can help you source all of them. The service aims to save you money and time so that you can fully engage your work but do not need to worry about sourcing issues.