The Ultimate Guide to Toybox 3D Printer for Kids
Prologue
3D printers have always been an option for adult makers, however, for kids keen on producing their own ideas, Toybox 3D printer has then stood out, 3D printers for kids now have become a new 3D printer commercial opportunity and can help kids establish 3D printing knowledge from a fairly young age, in this blog we'll introduce one of the most popular 3D printers for kids - the Toybox 3D printer.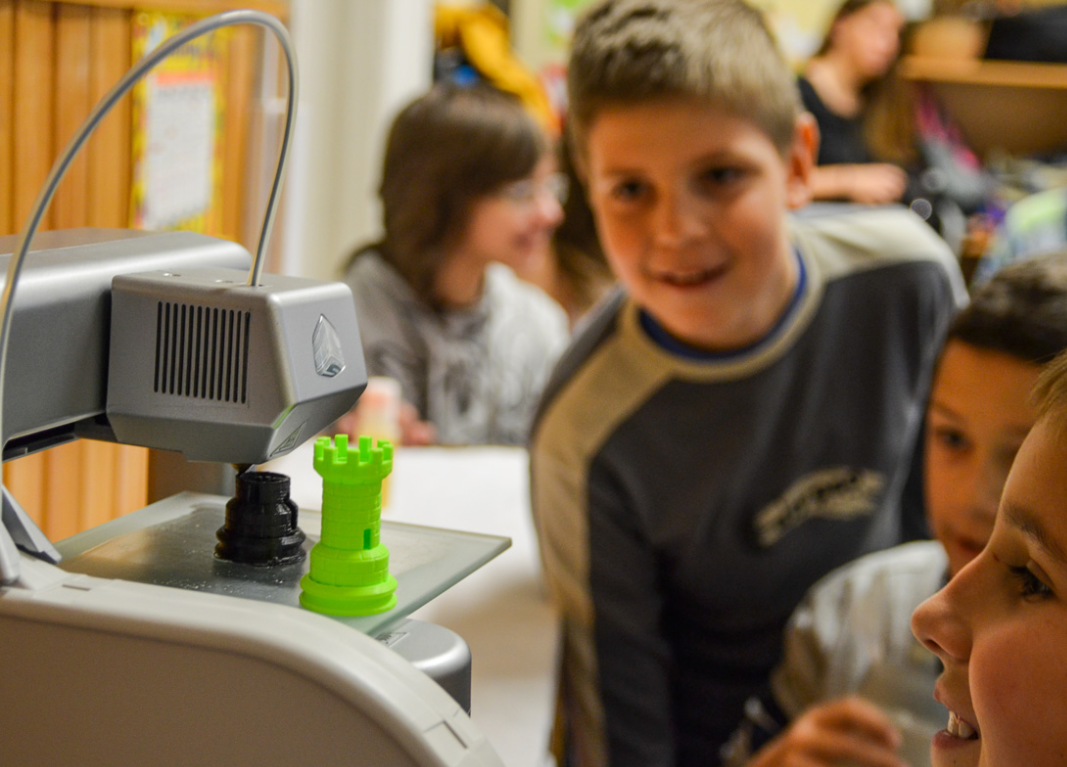 Toybox 3D Printer Specs
General Specifications

3D printer Properties

Materials

Software

Dimensions And Weight

Tech: FDM

Build volume: 70 x 80 x 90 mm

Filament diameter: 1.75 mm

Recommended slicer: N/A

Frame dimensions: 188 x 188 x 230 mm

Year: 2018

Feeder system: Bowden

Third-party filament: Yes

Operating system: Windows, iOS, any web browser

Weight: 3 kg

Assembly: Assembled

Print head: Single nozzle

Filament materials: PLA only

File types: STL, OBJ, gCode (via Creator Space on app)

Mechanical arrangement: Cartesian XY-head

Nozzle size: 0.4 mm

Manufacturer: Toybox

No heated bed

Print bed material: Toybox "Easy-Peel" bed

Connectivity: Wi-Fi
Features
It's For Kids
The main selling point of the Toybox 3D printer is that it is designed for kids. Any child can use the machine (under supervision, of course) and it does not require any adjustments, modifications, or a slicer to print 3D models.
It is necessary for small children to understand the control method to be able to use this machine. This means that there is an app that gives your child some options for using the Toybox. A model can be selected, modified, or even created by the user and then it is just a matter of pressing print on the app.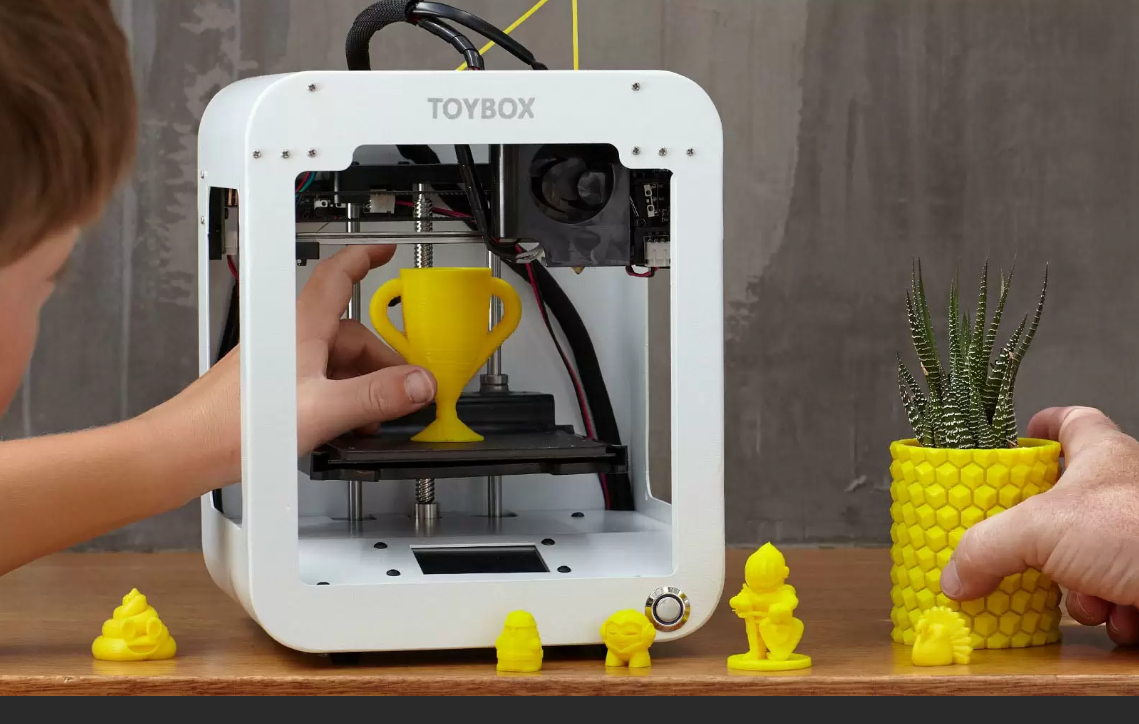 About Its APP
Toybox's application is its core feature. It's supposed to be simple to use and easy to search for items (toys, really), and it's designed, of course, to be operated by young children with little experience.
There are several categories and collections for toys in the app, such as "Critters" or "Quick Prints", and each has a section for featured designs and the most popular designs. Moreover, the app lets users draw directly in the app and then send their doodles to the Toybox for printing.
This is all dependent on a Wi-Fi connection, and the Toybox is Wi-Fi enabled, so there shouldn't be any trouble here, but if you have a patchy internet connection, you might experience some frustration. Although we haven't tested the Toybox, we're not sure whether the printer is tethered to your smartphone. However, you can browse toys online and schedule prints using your computer.
It is assumed that everything will work just fine as long as the Toybox servers are up, but what if the company disappears one day? Does the printer still work properly? We find that apps like this can be very hit or miss in our experience because they are such an integral part of the usability of the machine. If they don't work as advertised, it would prove a real headache.
The Potential Cost In The App
A lot of premium features can only be purchased with Toybox's in-app currency, Bolts, just as there are premium features in any modern, digital service that has to appeal to children nowadays. Bolts must be purchased separately before they can be spent, and 1400 of them will cost around $10, depending on the price of the desired "premium" toy you want. This is the only way to obtain these premium models, however, there are not all of them.
There were once subscription models known as "Play Packs," which provided access to more sophisticated toys that required some assembly and additional, non-printed parts, but are no longer available or scheduled for return as of the time of writing.
The Build Volume
For a 3D printer for kids, the build volume of the Toybox 3D printer is quite minimal, with only 70 x 80 x 90 mm of space to work with. However, due to the fact that children have a fraction of the patience of a hungry terrier, which means that by the time something of substance is printed, they're probably not going to care and will instead be focused on telling you about a green bus they saw, but that's probably okay for the role this printer has to play, large prints that take many hours will sometimes distract children's attention a lot and make the 3D printing process for kids a bit tedious in a way.
Yes, it's a very, very small 3D printer footprint, but among 3D printers for kids, The Toybox 3D printer is mostly something a child's patience can work on, so there's a positive side to that.
Light Weight
The Toybox 3D printer weighs only about 3 kg, making it easy to store and keep out of the reach of children when it's not in use.
Environmentally Friendly
Although it is not sustainable to print off a lot of plastic toys constantly, you won't use anything but PLA when using the Toybox 3D printer, since it's made from plants. Toybox says it is compostable, but it isn't exactly true. This is not a biodegradable material and it is unlikely to break down very well in your home compost heap, so industrial facilities are required.
In contrast, PLA is one of the safer plastics you can use at home. It's still not safe to place PLA objects in children's mouths all day, and bacteria can grow in 3D-printed "pores", but it's not as bad as many other plastics.
More Printable Choices
In addition to printing from the catalog within the Toybox 3D printer app, you can also import files (STLs, OBJs, and G-codes) to your Toybox, so you aren't limited to what's on the app.
You can do this by importing a file into the Creator Space section of the Toybox app. Once your file has been uploaded, it is automatically sliced online, and you can then move it around the print bed, rotate it and scale it just like you would on a slicer such as Cura, and then press the print button.
How Much Does It Cost?
At the time of this writing, the portable Toybox 3D printer is priced at around $350. A "deluxe pack" of eight spools of filament (which Toybox tweeted is called "printer food") costs $349.
While that's certainly not cheap for a small, material-limited 3D printer, as some of the marketing materials suggest, it's definitely not your last toy. However, it doesn't seem like a huge leap for a 3D printer that can be used by children, especially if it works as advertised.
Client Reviews
When it comes to 3d printers for kids, parents seem to be very impressed with the Toybox's ease of use and versatility, and there are a lot of positive reviews and comments surrounding it. Several commented on the fact that it appears healthy and fun for children to participate in a creative process and learn about new technology like 3D printing while doing so.
Several parents have given Toybox a thumbs up, so it's clear the creators are on to something, though some criticism can be found over the app's functionality, which is crucial to the functionality of the device, so it's easy to understand why it might frustrate users sometimes.
Final Words
The Toybox 3D printer for Kids is a great way to introduce kids to the world of 3D printing. This compact and easy-to-use printer allows kids to bring their imaginations to life by creating their own toys and other objects. With its user-friendly interface, the Toybox 3D printer is designed to be safe and fun for kids to use.
But what if you want to take your 3D printing skills to the next level? That's where Elecrow comes in. Elecrow is a leading electronics manufacturer that offers a wide range of products to help makers, hobbyists, and professionals bring their ideas to life. Their products include DIY kits, sensors, development boards, and more. With Elecrow, you can expand your 3D printing capabilities by adding electronics to your projects. For example, you can create custom circuits for your 3D printed toys or add sensors to make them interactive. If you are interested in creating your own products, you can even join Elecrow's Partner Seller Program and reap the benefits!
In short, if you want to introduce your child to the world of 3D printing, the Toybox 3D printer is a great place to start. And if you're looking to take your 3D printing skills to the next level, Elecrow has everything you need to bring your ideas to life. So whether you're a kid or an adult, the world of 3D printing and electronics is ready for you to explore!