Special Price
$17.50
was
$35.00
Overview
SIM800 GSM/GPRS Module
SIM800 is a quad-band GSM/GPRS module that works on frequencies GSM 850MHz, EGSM 900MHz, DCS 1800MHz and PCS 1900MHz. SIM800 features GPRS multi-slot class 12/ class 10 (optional) and supports the GPRS coding schemes CS-1, CS-2, CS-3 and CS-4. The development board supports mobile Unicom 2g / 3g / 4g card. It has lots of advantages as shown below:
1.DC6-24v wide voltage power supply, can also conveniently used in conjunction with your system power. Board high performance DC-DC power supply circuit, plus TVS protection, the system is greatly enhanced stability.
2. Support 3.3V / 5V TTL level control, convenience and variety of commonly used microcontrollers, such ARDUINO / 51 / STM32 and other communications Modules listed separately TX / RX / GND, and easy to use.
3. With a standard serial interface, easy to use PC control or debugging.
4. With headphone and microphone interface, easy to test GSM voice calls .
5. SIM card with a chip static protection, static electricity generated when the SIM card plug for protection .
6. All pins are available SIM800 go out, so you can develop applications for a variety of SIM800.
7. RTC with battery backup.
8. With NET_STA indicator for easy viewing of the current status of SIM800.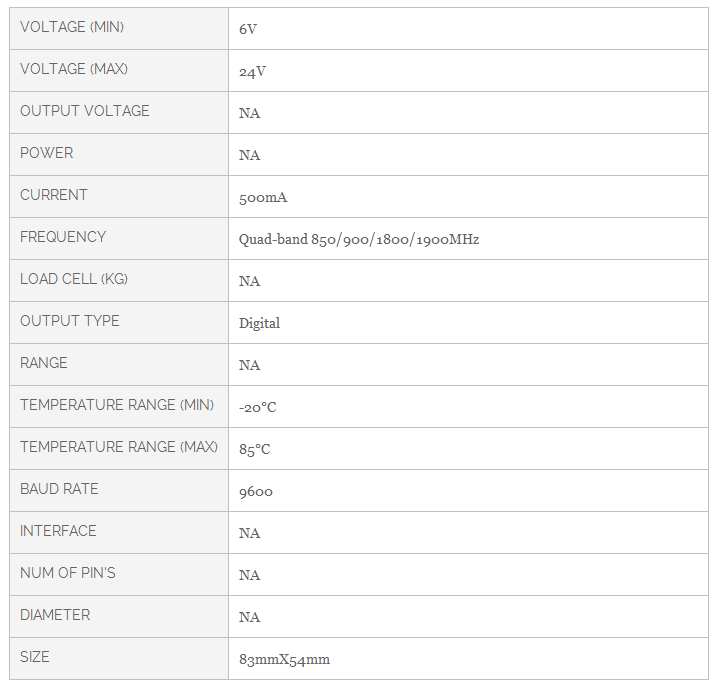 Specification
TGPRS class 12: max. 85.6 kbps (downlink/uplink)
PBCCH support
Coding schemes CS 1, 2, 3, 4
PPP-stack
CSD up to 14.4 kbps
USSD
Non transparent mode
Specifications for SMS via GSM/GPRS
Point to point MO and MT
SMS cell broadcast
Text and PDU mode
Package list
SIM800 GSM/GPRS Module x 1
Wiki & External links