Guide to Learning About New energy PCBA
New energy PCBA Introduction
As time passes on, new technology is highly inclined towards developing solutions that help in manufacturing such equipment and solutions that are energy efficient.
The concept of sustainability is on the rise. The demand for catering to the different equipment and developing New energy PCBAs are meeting these demands by protecting the environment and offering sustainable solutions.
New energy PCBA is observed to be widely used in multiple industries, among which the automobile sector is a common one. If you are looking forward to knowing more about this PCBA, like the different types of it, its applications, and how they benefit industries and the environment, you must go through this guide below.
What is New energy PCBA?
New energy PCBA is manufactured and designed to optimize power usage and energy efficiency, and sustainable practices are promoted when innovative techniques are used.
These PCBAs are most commonly used in energy storage equipment, battery management systems, outdoor power equipment, electric vehicles, and smart grids. These PCBAs create efficient and effective communication between the components of a device and, at the same time, manage and monitor energy consumption.
The new energy PCBA creates an integration between components, including modules that store energy, like batteries, sensors, and control systems. This allows them to coordinate, ensuring that energy flow is regulated and power is optimized.
Objectives of New energy PCBA
New energy PCBA has been manufactured based on certain objectives, which are discussed below:
Power Optimization
The main theme behind designing and manufacturing New energy PCBA is maximizing energy efficiency, which is one of the prime requirements for devices that use high power. Hence, by incorporating these PCBAs, energy losses are reduced, and devices' efficiency is improved.
Sustainability to the Environment
New energy PCBAs promote the usage of renewable energy resources, and hence this way, the carbon emissions are reduced. The requirement of being dependent on eco-friendly technological innovations have led to the development of these PCBAs, and they are doing this job very well.
Conservation of Resources
Using devices that comprise the New energy PCBAs, non-renewable resources like fossil fuels can be reserved for a future generation because utilizing less of the resources and optimizing energy could be conserved for the better.
Improved Power Conversion
New energy PCBA has been designed in a way that it helps with efficient conversion of power in different forms, for instance, from AC to DC. This aspect of these PCBAs leads to reduced wastage of energy, and hence the performance of the systems is improved.
How is New energy PCBA Used in Different Ways?
The types of New energy PCBA depend on the requirement of the application, and some of the common types may include the following, where each type fulfills a different purpose.
PCBA for Renewable Energy
This PCBA is suitable for using renewable energy systems, like solar or wind power systems. These PCBAs comprise such components that help with the process of harvesting energy and utilizing it with efficiency.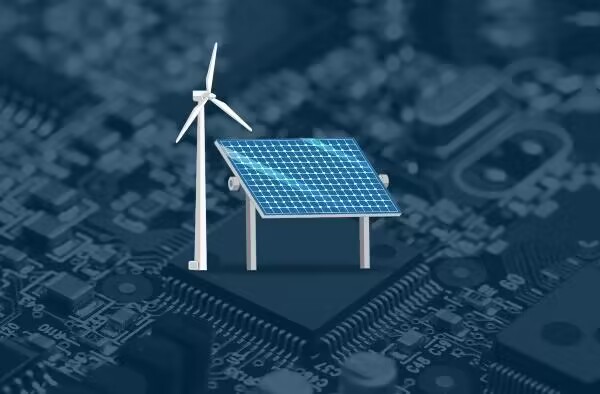 PCBA for Energy Storage
As the name suggests, New energy PCBA can also be used for storing energy, and this is integrated with the components focused on storing energy, like batteries. They help in the appropriate utilization and energy storage optimization of the devices.
Electric Vehicle PCBA
New energy PCBA plays a significant role in electric vehicles because these vehicles work through electronic systems. They need an efficient system in place that helps coordination between its motor control and battery management so that they can utilize the electricity in the best possible way.
PCBAs for Smart Grids
Smart grids are such kinds of electric systems that need advanced solutions to allow the energy distribution to be efficient, and for this, the role of New energy PCBA is an optimum one. In smart grids, it helps to focus on demand-to-response mechanisms, monitor power, and ensure the grid's stability.
PCBAs for Portable Power Systems
The demand for portable electronic devices is at its peak with multiple wearables, and IoT devices. They require New energy PCBA to offer energy storage and optimization with efficiency in the portable devices.
Significance of New energy PCBA in the Automobile Industry
New energy PCBA has been quite popular in the automobile industry. There are many reasons which make this automotive PCBA suitable for vehicles, and some of these are as follows:
Temperature Management
New energy PCBAs can withstand high temperatures and allow them to dissipate heat; hence, when used in vehicles for their energy efficiency, they can last longer and may resist the heat released from the vehicles.
Suitable for Every Environmental Condition
The lifespan of New energy PCBA is very long because it is manufactured with high-quality material to make it suitable for being used in harsh working conditions and subjected to all kinds of environments.
Vehicles need this feature of PCBA so that when subjected to different climatic conditions or harsh conditions, the PCBA may function efficiently.
Resistant against Dirt
Vehicles are usually subjected to attracting dirt, leading to malfunction within them. However, the New energy PCBA is manufactured in a way that resists dirt; hence, the vehicle's functioning and power efficiency are not compromised.
Application of New energy PCBA in the Automobile Sector
In the automobile sector, the use of New energy PCBA is quite prevalent and is present in multiple aspects, and some of these applications are provided below:
Battery Management System
The battery management system of the vehicles comprises a battery pack that charges and discharges, and this PCBA ensures that the limits of the battery pack are operated within the safety range.
Power Electronics
Power electronics like DC-DC converters, inverters, and motor controllers need to regulate the voltage in the electrical system of automobiles. This PCBA helps regulate the voltage to ensure accurate power flow.
Vehicle Control Unit
Vehicle control units present within the cars comprise many systems, including brake, motor, and suspension. To allow the communication between these systems to be coordinated, the PCBA may be of great help.
Charging System of Vehicle
A vehicle's battery pack consists of charging systems, and here, this PCBA helps control and monitor the charging process, ensuring that the battery is appropriately charged.
Factors to Consider When Choosing New energy PCBA
There are some factors that must be taken into consideration when it comes to choosing New energy PCBA, and these may include the following:
Conclusion
New energy PCBA has a lot of benefits and features, and the way it assists multiple industries, especially the automobile industry, has led to a reduction in carbon emissions and managed power considerations in multiple devices efficiently.
If you are looking for one of the finest China New energy PCBA manufacturer, you can consider Elecrow. It could be your one-stop solution to have a New energy PCBA designed and manufactured for your applications and fixed within your devices. We offer affordable and customized solutions for our clients, so get in touch with us today!
Request New Energy PCBA Instant Quote