The Ultimate Guide to Smart Home PCBA
What is Smart Home PCB & PCBA
Smart home PCBA is a special kind of PCB assembly, it often refers to PCBA applications in smart homes that provide convenient and advanced systems to strengthen the house system to seek a comfortable and great living environment. Smart home PCBA system also includes electronic components and circuits that control various devices and systems within it.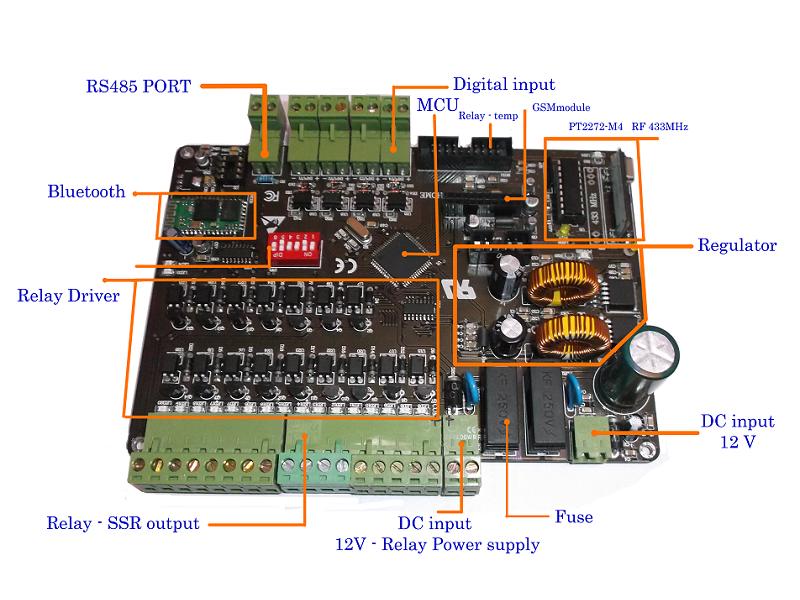 Smart Home PCB & PCBA Application
It's a fact that smart appliances are taking the world by storm these days and there are a lot of options and devices available in the market. If you are a fan of the PCB industry, you must have noticed that iterative launches of PCBA kitchen appliances happen every day and it is a must to participate in it to get updated with the new ones.
In the smart home PCBA application area, the house serves as a platform that integrates wiring technology, network communication technology, security technology, automatic control technology, and audio and video technology to build a residential facility. It also establishes the family schedule management system of affairs, thereby improving security, convenience, comfort, and art for the home. The application of smart home PCBA can help realize an environmentally friendly and energy-saving living environment.
Smart home services usually cover battery PCB, smart home automation PCB, solar power generation PCB, and other smart home appliances, focusing on smart home interconnection while providing excellent PCBA service to ensure reliable smart home systems for customers.
Types of Smart Home PCBA
There are several types of smart home PCBAs, each designed for specific devices and systems within a smart home. Here are a few examples:
Lighting control PCBA: The lighting control PCBA is designed to control lighting in a smart home. It provides advanced features such as dimming, color control, and scheduling, making it easy for homeowners to adjust their lighting based on their needs and preferences.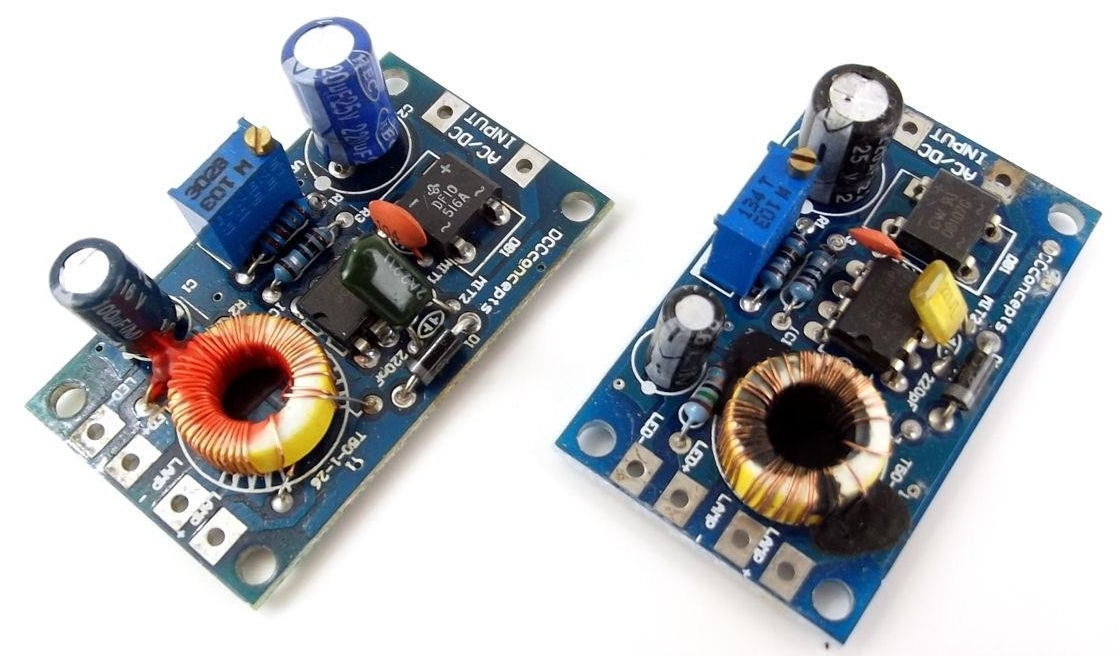 Security System PCBA: The Security System PCBA is designed to power and control security systems in smart homes. It includes cameras, motion sensors, and door locks, and provides advanced features such as remote monitoring, alerts, and notifications to help homeowners keep their homes safe.
Thermostat Control PCBA: The Thermostat Control PCBA is designed to control the temperature in a smart home. It provides advanced features such as remote control, scheduling, and energy management to help homeowners optimize energy use and reduce energy bills.
Entertainment System PCBA: The Entertainment System PCBA is designed to power and control entertainment systems in smart homes. It includes speakers, TVs, and media players, and provides advanced features such as remote control, scheduling, and high-quality sound to enhance the home entertainment experience.
Home Automation PCBA: The Home Automation PCBA is designed to automate various aspects of a smart home, including lighting, security, temperature, and entertainment. It connects and controls multiple devices and systems through a central hub, making it easy for homeowners to manage their smart home devices and systems from a single point.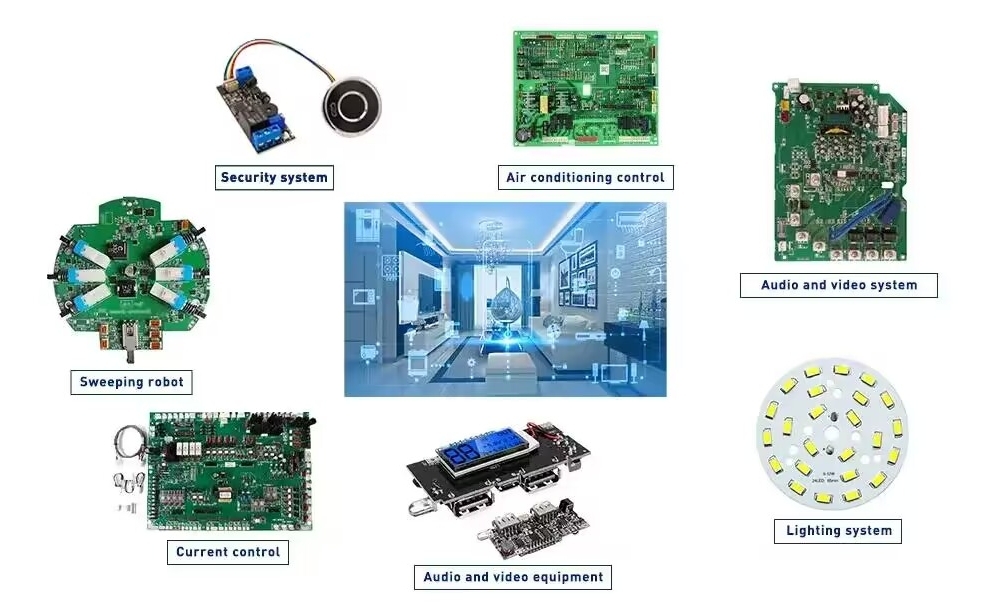 In short, different types of smart home PCBAs work with different specific devices and systems used in a smart home and have different features and capabilities required to meet the homeowner's needs.
Smart Home PCB in Sensor Applications
The smart home PCB system is one of the most welcome applications of sensors in life. With the help of a variety of sensors, actuators, control hubs, communication networks, and other parts, the system can obtain a wide range of indoor environment data through various types of sensors.
Sensors such as temperature and humidity sensors, smoke detectors, formaldehyde transmitters, and so on, are currently more commonly used in smart homes. An impulse control system supported by the smart home PCBA, which is similar to a "human nervous system," transmits information through sensors.
The importance of command intelligence cannot be overstated when it comes to maintaining a safe, comfortable, and environmentally friendly indoor environment. As part of the smart home automation PCBA system, sensors play a role in monitoring and data to control the role of the hub, thus improving the level of automatic monitoring of the system itself.
Elecrow provides high quality electronic sensor products and component sourcing to support smart home PCBA to meet customers' needs and help strengthen efficient smart home systems for better quality of life.
How to Choose Smart Home PCBA Manufacturer?
Choosing a reliable PCBA manufacturer is very important. Each step in PCB production should be taken with detailed thoughts so that mistakes don't occur. Adequate production capacity and thoughtful cooperation and other conditions should all be included, aspects can be considered from the following points.
1. Find an experienced PCBA manufacturer
Smart home PCBA production requires a lot of precise production steps that require carefully designed PCBA paradigms, attentive operation skills, the processing capacity of each device, etc., which only manufacturers with great experience can excel in.
There is fierce competition in the home automation PCB industry, and it is difficult to survive without the strength of PCBA processing equipment. If you understand the operation time of the processing equipment, the product coverage area, the difficulty of the processed product, and the PCBA technology, you can decide whether to match it with your own. Make sure you choose the PCBA factory with industry experience that has processed its own products in the same field!
It's also important to check whether a PCB processing factory has passed the ISO9001 quality management system certification or not.
2. Service Awareness
Good cooperation, quick response, considerate attitude, and professional processing of home automation PCBs can save you time and effort, and you can find out the PCB processing factory's service consciousness by looking at the company's corporate culture and how the sales staff treat customers.
3. Find a cost-effective PCBA producer
The cost of PCBA production is quite important to customers, choose a manufacturer that lists its product and service costs transparently, and find the one that provides good service at a relatively lower cost.
What Elecrow can offer you
Elecrow, which has been working in the PCB&PCBA industry for over a decade, has great experience in PCB assembly and strong production efficiency. Elecrow can provide you with professional and cost-effective smart home PCBA services upon your request.
The quality of PCBA is Elecrow's core concern, Elecrow has a mature system such as ISO9001 certified procedure and various testing methods to ensure the manufacturing of your PCBA with high quality.
Elecrow cares about what customers think and consider, responds quickly to each customer's needs, and supports each customer wholeheartedly.
Elecrow is more than qualified and competent to support your smart home PCBA programs, please do not hesitate to contact us.
Request Smart Home PCBA Instant Quote