Everything you should know about Rock Pi X
When it comes to SBCs (Single Board Computers), you must know about Raspberry Pi, famous for its strong features, to other experienced makers, terms like Orange Pi, Banana Pi are also familiar, however, what is Rock Pi, and how about its product Rock Pi X?
Developed by the Radxa team, the Rock Pi X can be used as a Windows alternative to their Rock Pi 4. Featuring a quad-core x86 Intel Atom processor with up to 4 GB of RAM and 128 GB of onboard storage, the Rock Pi X comes in two models: A and B. The Rock Pi X A model has only the RJ-45 port and no wireless connectivity, while the B model has an 802.11ac WiFi + Bluetooth 4.2 LE module.
With an entry-level cost of about $80, the RockPi X might be the next SBC you want to grab. But before you make that leap, we're going to take a detailed look at what the RockPi X Model B has to offer. You'll have a clear idea of whether the Rock Pi X is a good choice for your next project by the end of this article.
Features
Let's focus on some of the Rorck Pi X B's most important features.
Processor
The Rock Pi X owes its name to the x86 processor that powers it, which is none other than the Intel Atom x5-Z8300 Cherry Trail processor. It is quite unusual to find single-board computers equipped with Intel processors, except for a few notable examples such as the Atomic Pi. This particular processor is capable of running 32-bit programs at impressive speeds, and when combined with Intel's 8th generation graphics, it even allows for some light gaming.
Storage
The Rock Pi X also boasts an impressive onboard eMMC storage feature, with a maximum capacity of 128 GB of built-in flash storage. If you require even more storage space, you can easily expand it by using an additional microSD card of up to 128 GB. This means that you can enjoy a total storage capacity of up to 256 GB, which is more than adequate for various applications. This feature is particularly advantageous if you intend to use the Rock Pi X as a media center, as you can conveniently store all your liked media on this single device.
Operating Environment
The Rock Pi X was designed for the flexibility of operating systems for makers. Its x86 processor allows it to natively run the Windows OS, making it one of the rare SBCs that offer this capability. Additionally, it supports various Linux distributions that can be installed without difficulty. The Radxa team provides comprehensive resources on their website to help you get started with either Windows or Linux operating systems, making it easy to customize the board to your specific needs.
Audio
With the Rock Pi X, you get a full-sized gold-plated headphone jack, and microphone capabilities without requiring any additional hardware, which means that the Rock Pi X will work with your sound system without the need for an extra sound card.
Dimension
With its small size of 85 x 54 mm, the Rock Pi X provides some serious output while still being easily installed and running several applications without sacrificing performance, and its form factor is another distinguishing feature. In a place where space is limited, its tiny size can be really helpful since it almost fits in the palm of your hand.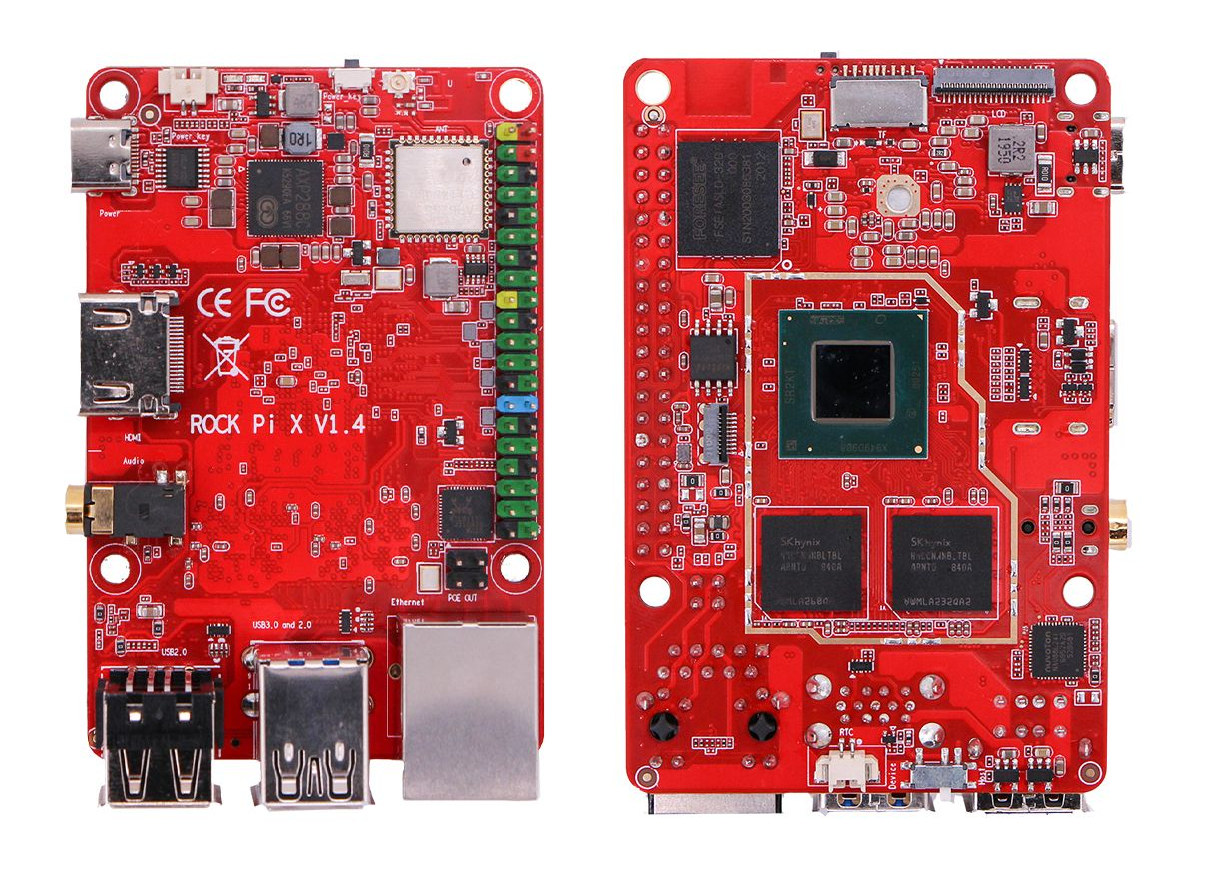 Specifications
In addition to the features listed, there's more to the Rock Pi X than meets the eye when you look at the specs.
| | |
| --- | --- |
| CPU | Intel Atom x5-Z8350 Cherry Trail quad-core processor @ 1.44 GHz / 1.84 GHz (Turbo); Intel Gen. 8 HD graphics @ 500 MHz |
| Memory | Dual-channel, 1866Mb/s LPDDR3; 1, 2 or 4GB memory options available |
| Storage | eMMC module (optional high-capacity industrial-grade eMMC module; 16, 32, 64, 128GB available); microSD slot (up to 128GB) |
| Display | HDMI 2.0 port (up to 4K @ 30fps output) |
| Audio | 3.5mm microphone jack; HD codec supports up to 24-bit/96kHz audio |
| Onboard network support | GbE LAN with Power over Ethernet (PoE) support (additional HAT required for PoE power) |
| Onboard wireless support | 802.11 AC Wi-Fi and Bluetooth 4.2 with integrated antenna and external antenna support |
| USB ports | 1x USB 3.0 OTG; 3x USB 2.0 |
| Input/output | 40-pin GPIO expansion header |
| Supported Operating system | Windows 10, Ubuntu |
| Dimensions | 85 x 54 mm |
What makes Rock Pi X stand out?
In a market where ARM-based processors dominate, the availability of an x86 processor SBC is a breath of fresh air. The Rock Pi X's expansive range of features makes it an incredibly versatile board that can be used for a variety of purposes. It can function as a mini-computer for basic tasks or serve as the central processing unit in a larger project.
The Raspberry Pi 4 is Rock Pi X's main competitor in terms of performance and price. However, the two boards differ in their choice of processor and operating system. Moreover, the Rock Pi X is equipped with a built-in headphone jack that supports a microphone, which is an advantage over the Raspberry Pi which requires an additional sound card for the same capabilities.
Both boards have similar I/O configurations, but the Rock Pi X's ability to run 32-bit native Windows applications makes it an obvious choice for Windows enthusiasts. While technically possible on a Raspberry Pi, it's not as straightforward. In a Reddit thread, the Rock Pi X was compared to other SBCs running the same processor, and it consistently emerged as the preferred choice.
Additionally, although not yet officially supported by the Radxa team, it's possible to install Android on the Rock Pi X. If you require a board that can run Windows or serves as a media center, the Rock Pi X is an excellent option for your next embedded project.
Final Words
The Rock Pi X is a versatile single board computer that can be combined with a variety of sensors, electronic components to complete various DIY electronics projects, however, component sourcing can sometimes be time consuming. Elecrow provides high quality electronic component sourcing services and sells electronic products that can help you realize your fantastic ideas, projects such as home automation systems, robots, smart gardens and security systems are possible with Elecrow's component sourcing help. If you are a fan of other single boards like raspberry pi, orange pi and etc, Elecrow can also offer you good parts to realize these projects.
If you are a skilled maker who is not satisfied with DIY electronic projects and want to mass produce your ideas and make money from it, join Elecrow's Partner Seller Program and get our professional support to help you sell products online and earn your profits!