What is IATF 16949? Beginner's Guide to QMS(Quality Management System)
Prologue
Elecrow, a leading provider of electronic manufacturing services, is already certified to IATF 16949 , which is a globally recognized standard for quality management systems (QMS) in the automotive industry. This achievement reflects Elecrow's commitment to delivering high-quality products and services to its customers.
As news of the certification spreads, some customers have expressed interest in learning more about the IATF 16949 standard and how it relates to their business. In this article, we will delve into the details of the IATF 16949 certification and explain how it can benefit both Elecrow and its customers in the automotive industry.
The automotive industry is one of the most competitive and demanding industries in the world. To meet the high-quality standards required by customers, automotive manufacturers must implement a robust quality management system(QMS) that ensures consistency, reliability, and safety. Thus, One such standard, IATF 16949 has emerged and become increasingly important in this industry.
As a quality management system(QMS) standard specifically designed for the automotive industry, IATF 16949 provides a framework for automotive manufacturers to establish and maintain a quality management system that meets customer requirements and enhances product and process quality.
If you are new to the automotive industry or looking to improve your knowledge of quality management systems, this beginner's guide to IATF 16949 will provide you with a comprehensive overview of the IATF 16949 standard, IATF 16949 requirements, and IATF 16949 benefits. Whether you are an automotive manufacturer, supplier, or customer, understanding IATF 16949 is essential for ensuring the quality and safety of automotive products. Let's dive into the world of IATF 16949 and discover what it is and why it matters.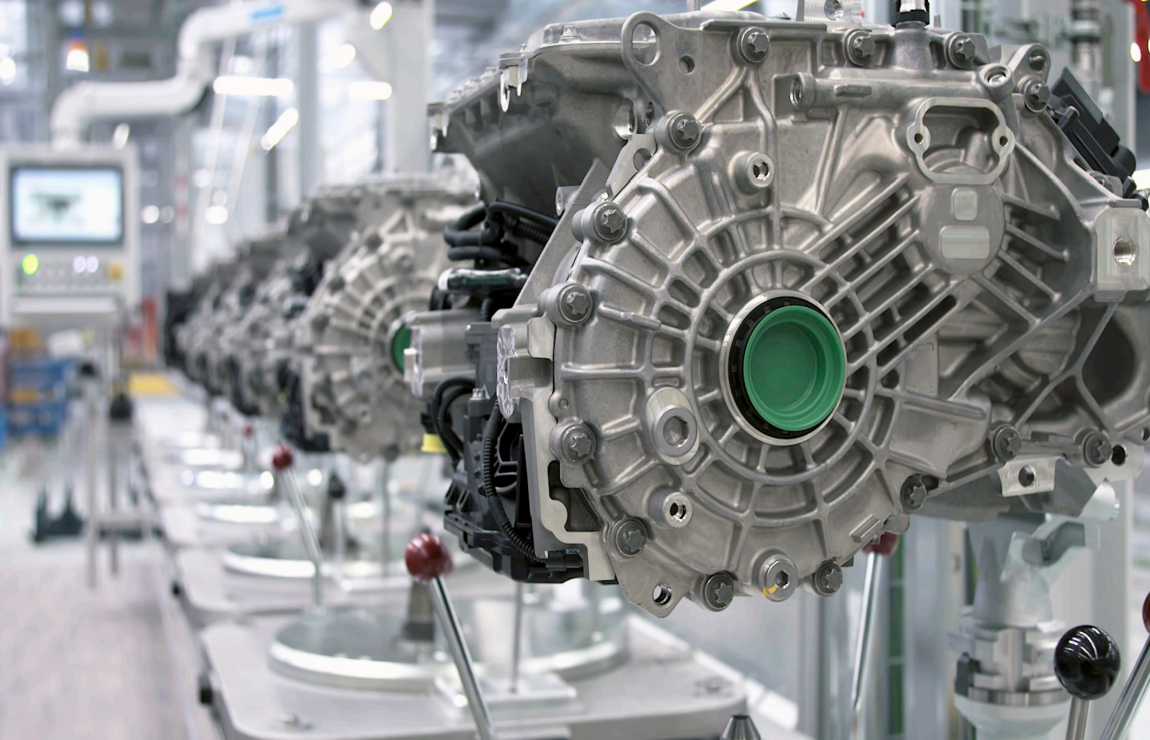 What is IATF 16949?
The International Automotive Task Force published IATF 16949:2016 on October 3rd, 2016 and it replaces ISO/TS 16949, which defines quality management system(QMS) requirements for organizations in the automotive industry.
The IATF 16949 standard is a global standard for quality management systems in the automobile industry, incorporating the ISO 9001:2015 standard with additional automotive customer-specific requirements. This standard was developed by the International Automotive Task Force (IATF) with AIAG(Automotive Industry Action Group)'s support.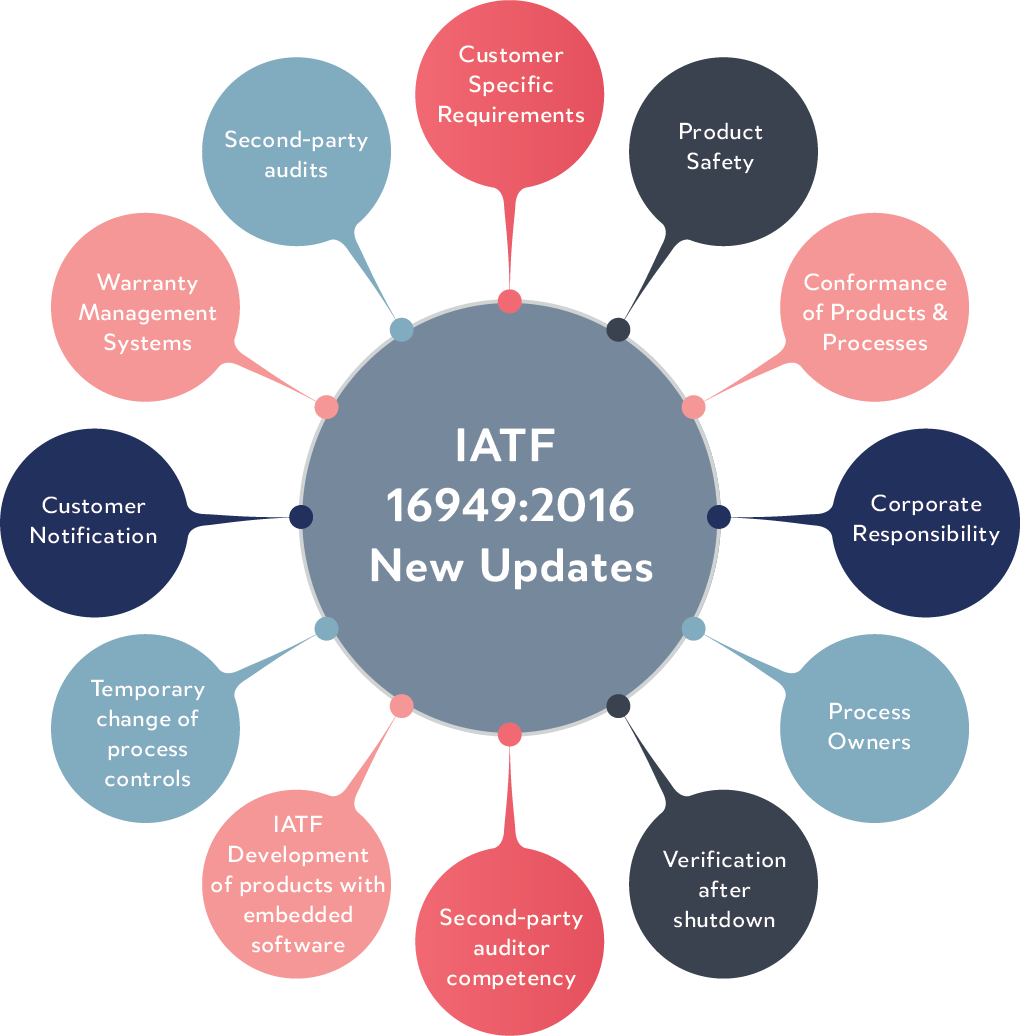 A third-party auditor (Registrar/CB/Certification Body) is required to verify its compliance.
Some areas of focus that are important to consider are:
Defect prevention
Risk management
Change and warranty management
Management of sub-tier suppliers
Continuous improvement
Reducing waste
Product safety
Contingency planning
Requirements for embedded software
What is ISO 9001?
International standards such as ISO 9001 define what an effective quality management system (QMS) looks like. Organizations that are ISO 9001-certified demonstrate their ability to consistently provide high-quality products and services and comply with regulatory requirements and customer expectations.
From agriculture to zinc processing, ISO 9001:2015 applies to products and services across the globe. It comprises ten sections, including:
Support
Operation
Context of the organization
Leadership
Planning
Improvement
Performance evaluation
As a requirement of ISO 9001 standard, companies must:
Conformance to regulations while consistently delivering acceptable products and services to customers
The clear goal of improving customer satisfaction while maintaining compliance through continual improvement
See more information about ISO 9001 and related standards Quality management here.
IATF 16949 vs ISO 9001
IATF 16949 and ISO 9001 have a fundamental difference in their management. ISO 9001 is managed by the International Organization for Standardization, while IATF 16949 was developed with the input of members of the automotive industry, including automakers and groups like the Automotive Industry Action Group.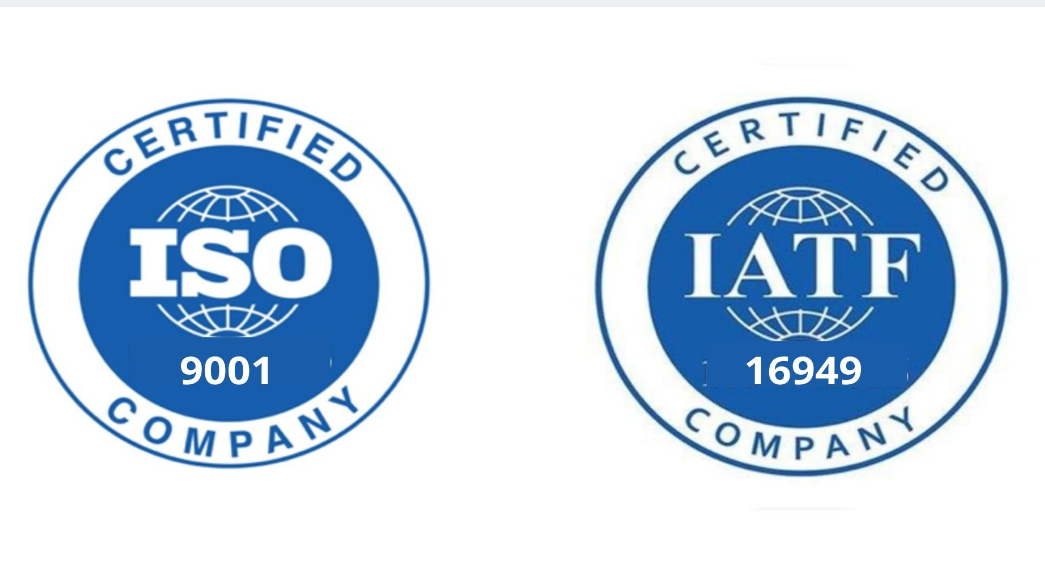 In contrast to ISO 9001, IATF 16949 adds an emphasis on corporate responsibility, process owners, and the effectiveness and efficiency of processes.
Additionally, ISO 9001 focuses on customer satisfaction, but IATF 16949 goes further, requiring compliance with specific requirements specified in the standard for each company. Furthermore, ISO 9001 can be utilized across all facilities that an organization owns and manages, whereas IATF 16949 is only applicable to original equipment manufacturers (OEMs) developing, producing, or servicing auto parts, and not to aftermarket parts.
IATF 16949:2016 vs AS9100 Rev D
The IATF 16949 and AS9100D standards are both based on ISO 9001:2015, an internationally recognized quality management system standard. The difference is the focus on the additional requirements in each standard.
Aerospace uses AS9100, while automotive uses IATF 16949. The changes to the standard are the additions that these industries have determined are necessary to make a QMS suitable for their specific industry requirements.
There are additions to AS9100 (published by the International Aerospace Quality Group) that focus on product safety, managing the exact configuration of each product, and preventing the use of counterfeit parts. Managing on-time delivery and addressing human factors that can affect the way processes are carried out are two requirements that often appear without a separate clause.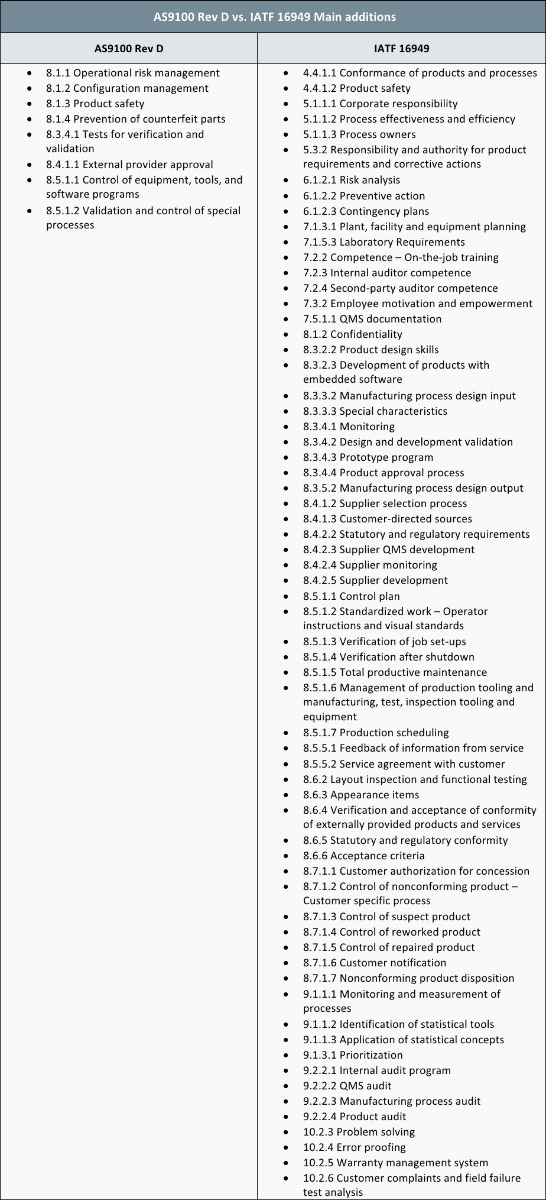 In contrast, IATF 16949 (published by the International Automotive Task Force) adds requirements for the design and control of processes, qualifications for specific individuals, and tools to be used (such as statistical tools). It also requires controls for external suppliers and production processes (such as scheduling and total product maintenance). There are also specific requirements for non-conforming products. Some requirements specific to the automotive industry are also included, including error-proofing and problem-solving.
ISO/TS 16949 vs IATF 16949:2016
The previous automotive standard, ISO/TS 16949, focused on the organization's requirements. However, the updated IATF 16949 now includes customer specifications and requirements in their audit to ensure that the company is meeting them, emphasizing accountability and safety.
Here are some of the key differences between the two automotive standards: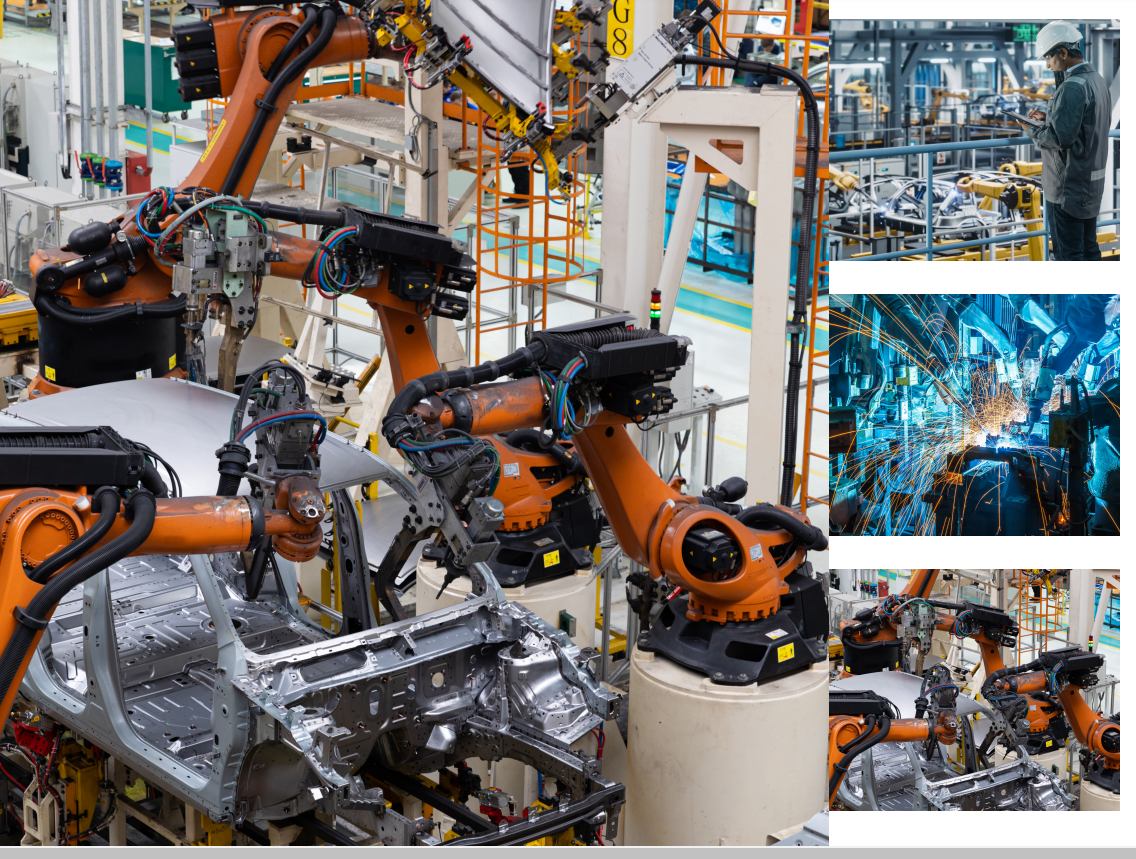 Clause 4: Context of the Organization
This is a new clause that requires an organization's quality management system to consider interested parties such as shareholders and employees, in addition to defining the organization's context and internal and external issues. ISO/TS 16949 only referenced customers.
Clause 5: Leadership
IATF 16949:2016 now mandates that top management must take responsibility for the effectiveness of the quality management system. Additionally, this clause adds obligations related to corporate responsibility.
Clause 6: Planning
IATF 16949:2016 introduces fresh requirements that oblige organizations to determine risks and opportunities and to carry out risk assessment and analysis processes like FMEA.
Clause 7: Support
While ISO/TS 16949 only addressed measuring equipment, IATF requirements call for monitoring and measurement activities. The newer standard also covers software on employee-owned and customer-owned equipment.
Clause 8: Operation
IATF 16949:2016 updated this clause to give more importance to process control, particularly in terms of planned changes and the review of unintended consequences. It also includes additional requirements for supplier management, measurement, and selection.
Clause 9: Performance Evaluation
IATF 16949:2016 mandates a risk-based approach to internal audits and incorporates new qualifications for internal auditors.
Clause 10: Improvement
In contrast to ISO/TS 16949, the updated IATF standard requires organizations to identify opportunities for improvement to enhance customer satisfaction. It also includes new corrective action requirements.
Overall, IATF 16949: 2016 necessitates more documentation than its predecessor, ISO/TS 16949.
Why do companies want to Implement IATF 16949?
If a company wants to supply its products to the Automotive Industry, IATF 16949 registration is not only advantageous but an absolute requirement. To conform to IATF 16949, companies registered to this Technical Specification must develop their suppliers' Quality Management Systems.
Benefits of IATF 16949 Certification
Certification to IATF 16949, a global standard for automotive quality management, offers a unique set of benefits in addition to those provided by its close relationship with ISO 9001. Here are some of the advantages of IATF 16949 certification:
1. Enhanced Credibility
IATF 16949 certification demonstrates your company's commitment to adhering to widely accepted quality management standards. If your company is IATF certified, procurement buyers for automotive manufacturers will recognize your dedication to meeting customer requirements for high-quality products with zero defects. This recognition can enhance your company's reputation and increase your chances of securing contracts with these buyers.
2. Expanded Global Reach
Certification to the global IATF 16949 standard can expand your customer base to companies worldwide, providing new opportunities for growth and collaboration.
3. Increased Customer Satisfaction
Achieving IATF 16949 certification involves improving customer satisfaction, which can increase customer loyalty and repeat business, ultimately boosting your bottom line.
4. Improved Process Integration
IATF certification's dedicated process approach can help you integrate systematic processes, reduce duplication, and increase efficiencies. Closer integration of processes can drive cost savings across your operation.
5. Evidence-Based Decision Making
IATF 16949 certification provides managers with the necessary data to make informed decisions, reducing reliance on intuition and gut feelings. This leads to improved decision-making, which can positively impact policy formulation and operational procedures.
6. Cultivation of a Culture of Continual Improvement
IATF 16949 emphasizes continual improvement as a hallmark of its standard. Focusing on continual improvement can lead to cost and efficiency savings, and create a culture of continuous improvement that provides ongoing benefits.
7. Increased Employee Engagement
Engaged employees can make a significant difference in an organization's performance. IATF 16949 certification can lead to increased employee engagement by providing employees with a clearer understanding of their roles and how they contribute to the organization's success. Engaged employees are also better positioned to identify areas for improvement and help implement necessary changes.
IATF 16949 PDF on FAQs
See more information about IATF 16949 FAQs here.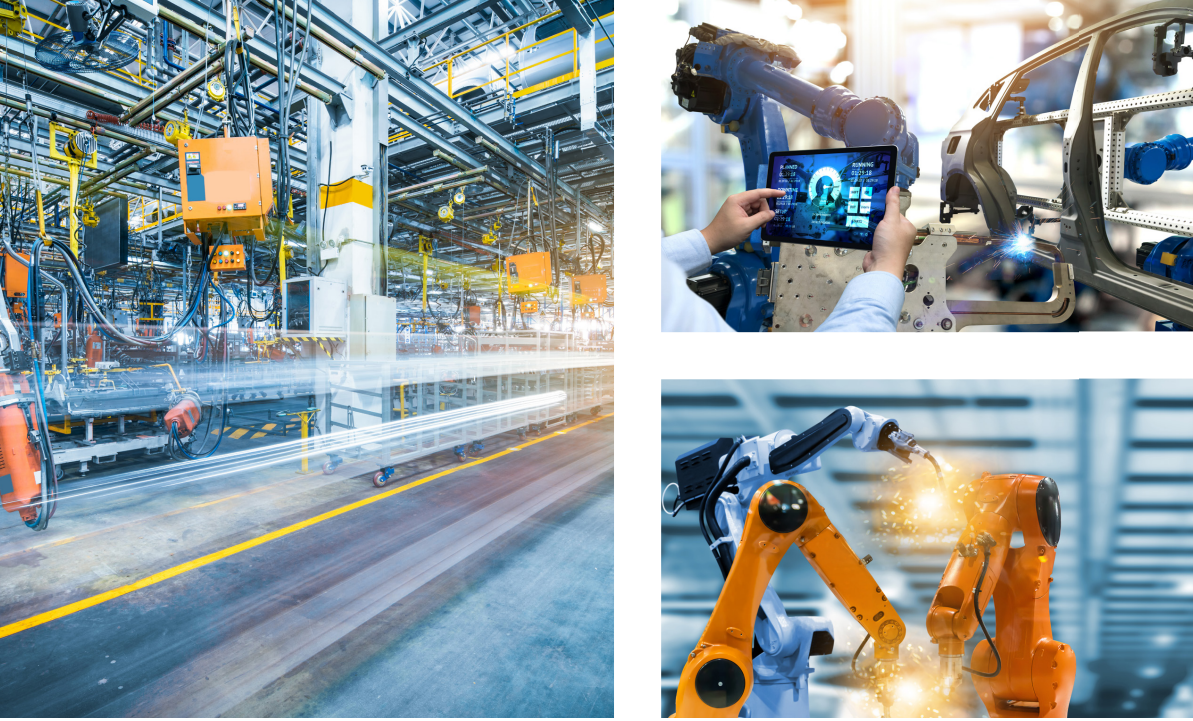 Details regarding IATF 16949:2016 can be obtained from the IATF website: www.iatfglobaloversight.org
Elecrow Provides IATF 16949-Certified PCB Assembly Services
Elecrow is a trusted provider of high-quality PCB Assembly services that are IATF 16949 certified. IATF 16949 certification ensures that Elecrow's services meet the rigorous standards of automotive quality management systems. With efficient and professional services, Elecrow is committed to delivering exceptional results to its customers with state-of-the-art facilities equipped with the latest technology. In addition, Elecrow is staffed by a team of highly skilled professionals dedicated to providing precision-driven and technologically advanced services. Elecrow's IATF 16949 certification is a testament to its commitment to compliance and delivering the highest quality services to its customers.
See Elecrow's IATF 16949 certification PDF here.
If you are a maker interested in creating your own electronics projects and need a professional PCB assembly service provider to help you mass produce your ideas, Elecrow is a definitely great working partner you can rely on, Elecrow even provides partner seller program with superb IATF 16949- certified PCB Assembly ability to help those with fantastic ideas to bring their concepts to reality and reap benefits online.
See Elecrow's partner seller Program here!