1.3 inch 240x240 IPS TFT LCD 7Pin SPI ESP32/Arduino Display Module
Description
This is a 1.3 inch display screen with a resolution of 240 (RGB) x240. It is an IPS full view LCD display panel so the color looks great in any direction. The drive IC is ST7789, and the universal 7-pin SPI interface is used.
The bottom has an SD card slot, which makes it easy to load full-color bitmaps from the MicroSD card in FAT16/FAT32 format.
Support the main control MCU such as ESP32/ESP8266/Arduino/STM32.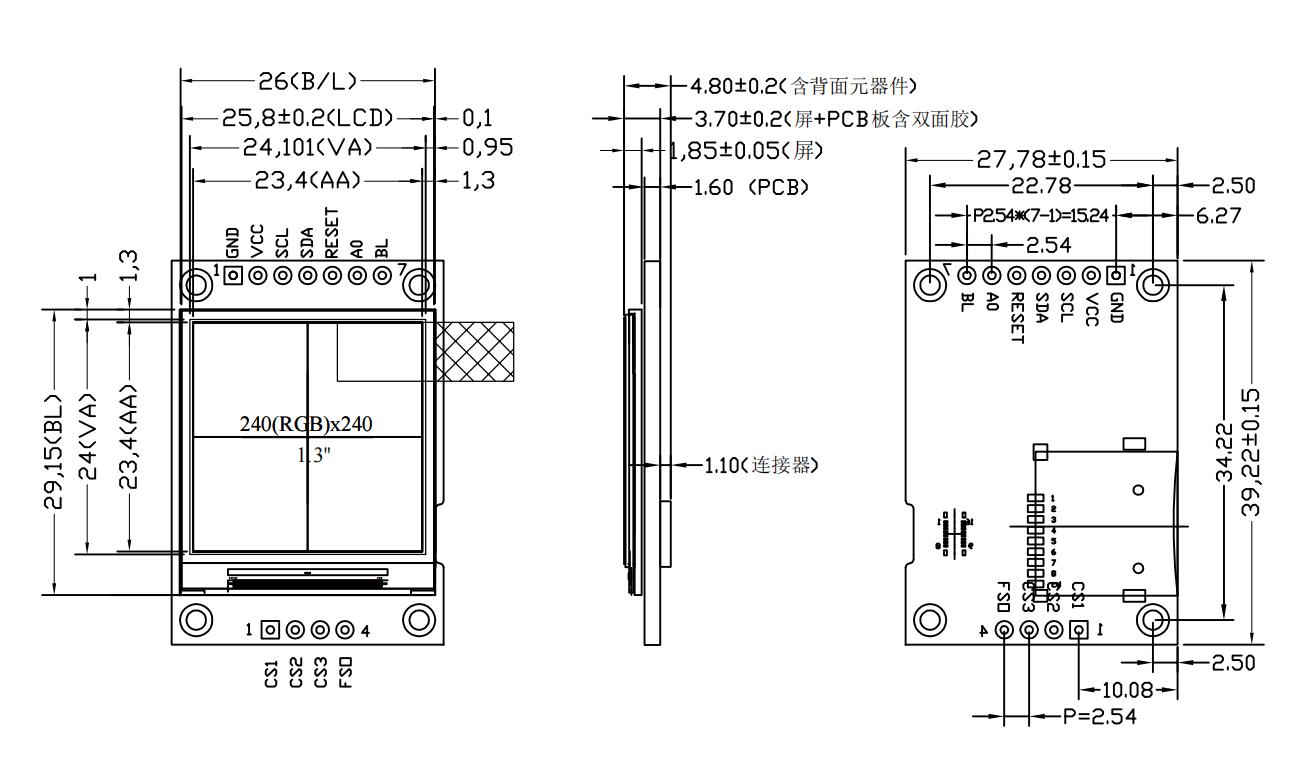 Specification
1.3 inch TFT LCD Display

Built-in microSD slot 

Operating Voltage: 3.3V

Backlight: 2-Chip white LED, Vf=3.2V(If=20mA)

Resolution: 240 (RGB) x240

Interface: SPI serial

Drive IC: ST7789

Operating Temperature: -20℃~+70℃

Storage Temperature: -30℃~+80℃

Dimension: 35.8mm x 35.8mm x 5.3mm

Weight: 7.6g
Pin Description:
No.

Symbol

Description

01

GND

GND

02

VCC

Power Supply

3.3V: U3 disconnected, J1 short circuited

5V: U3 welding, J1 disconnected

03

SCL

SPI Clock Signal

04

SDA

SPI Data Signal

05

RESET

Reset Control Signal

06

A0

Data/Command Selection Pin

0: Command

1: Data

07

BL

Backlight Control Pin

High level: enable backlight

Low level: disable backlight
No.

Symbol

Description

01

CS1

LCD Chip Selection Pin

J2 is short circuited to ground: not in use

J2 is disconnected: in use

02

CS2

Character Library Chip Selection Pin

03

CS3

SD Card Selection Pin

04

FSD

Character Library Chip and SD Card Data Output Pin
Package List
1x 1.3 inch TFT LCD Display
Wiki