3D printing Applications on Fashion Industry Celebrities
If you are a fan of the Met Gala, it is fun to watch celebrities walk the red carpet in their stunning gowns. However, some of these dramatic and unique garments are 3D printed, which is already a common phenomenon in the fashion industry.
Grimes, Elon Musk's former partner wore 3d Printed Garment
Asher Levine, a 3D printing fashion designer with expertise in digital and high-tech practices, particularly 3D printing, was involved in the costume design for the "Shinigami Eyes" music video by Canadian singer Grimes, who is also Elon Musk's former partner. Grimes wears a custom-made nude scale-print bodysuit that glows, and the Blackpink partner Jennie Kim wears Levine's Candy Moto biker jacket.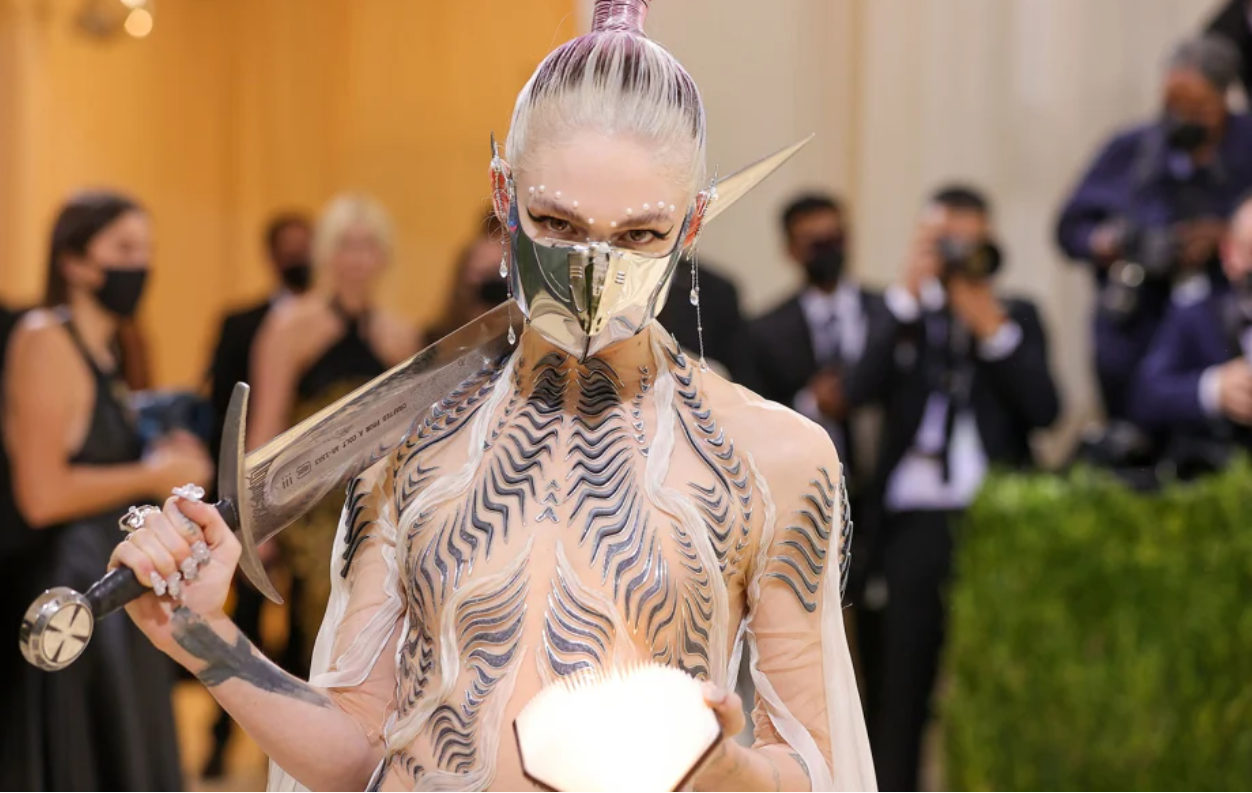 Using a combination of virtual reality technology and stechniques, the designer created a holographic representation of the bodysuit by overlaying it onto a scan of Grimes' body. The garment was then produced using the designer's unique 3D-printing method. After printing the dragonfly motif onto the bodysuit, Levine added a light source inside the piece, allowing it to shift colors throughout the music video.
Grimes, known for her futuristic and abstract fashion choices, is the latest celebrity to collaborate with Levine. Other notable clients of the designer who have donned his 3D-printed creations include Lady Gaga, Lil Nas X, and Doja Cat.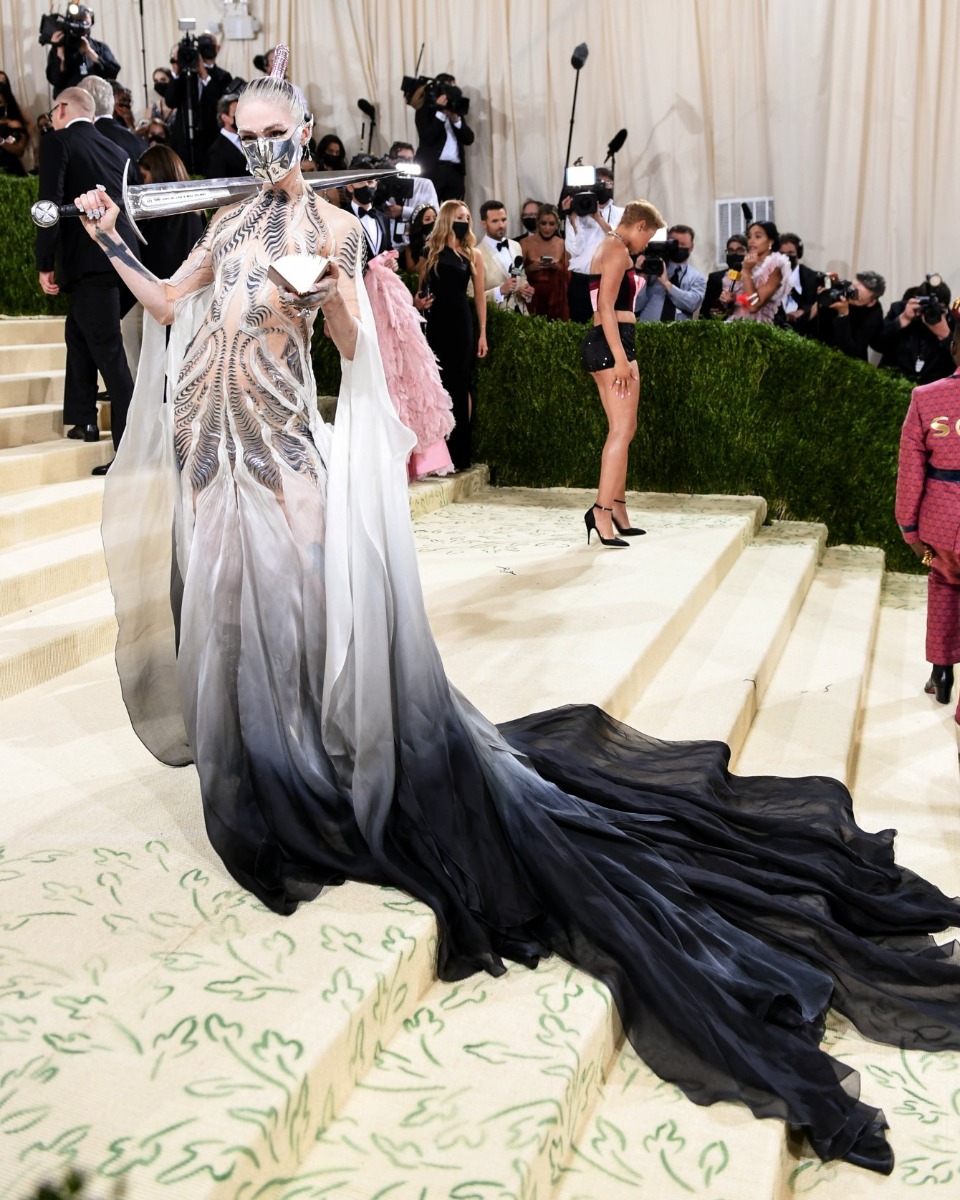 In Met Gala 2021, Another 3D-printing fashion designer Iris van Herpen created a breathtaking gown for Grimes,The gown was inspired by the film adaptation of Frank Herbert's novel, Dune, which had recently been released. The "Bene Gesserit" gown features 3D laser-cut lightning bolt shapes that were carefully arranged by hand.
Known for her avant-garde designs, Dutch fashion designer Iris van Herpen has made a name for herself by using 3D printing to create intricate and otherworldly dresses. Her 3D-printed creations are made from materials such as thermoplastic polyurethane and silicone, and feature intricate patterns and shapes that cannot be achieved through traditional sewing methods.
Jourdan Dunn Wore 3d-Printed Rose Garment For The Met Gala
The Met Gala is known for showcasing some of the most awe-inspiring, museum-worthy fashions. Among the most notable of these looks was British supermodel Jourdan Dunn's 3D-printed, flower-inspired gown from the 2019 event.
The stunning ensemble was a collaboration between designer Zac Posen, General Electric Additive, and 3D printing company Protolabs. Posen was inspired by a Mister Lincoln rose, and the team spent five months refining each petal using 3D digital models and prototypes. They also created a lacquer that enhanced the color and sheen of the petals, which shifted and shimmered as Dunn moved.
Each of the plastic rose petals weighed about one pound and was mounted on a titanium cage, resulting in a final product that weighed about 30 pounds. Dunn wore a shorter dress under the 3D-printed garment so she could sit comfortably in the museum.
Posen dressed five other guests in 3D-printed designs, including Katie Holmes, Nina Dobrev, Gia Coppola and Deepika Padukone. Dunn's dress, however, stood out as the standout of the evening and possibly one of the most memorable Met Gala outfits ever. After all, a rose is timeless, and Posen is one of America's greatest designers, whose work has always made an impact at the Met Gala.
There are more 3D-printing applications in the fashion industry
The 2019 met gala has already shown many 3d-printed fashion gowns applied on celebrities.
Katie Holmes, Julia Garner, and Deepika Padukone all wore custom Zac Posen gowns with 3D-printed accessories. Holmes had a 3D-printed palm leaf collar accessory, Garner wore a 3D-printed vine headpiece with leaf and berry embellishments, and Padukone's gown had 408 pieces of 3D-printed embroidery. Posen has used 3D printing for his designs in the past, including the 3D-printed Eartha convertible bag. He believes 3D printing has immense potential for the future of fashion, allowing for customization, precision, and the creation of previously unattainable elements in designs.
Final Words
With 3D printing, designers have the freedom to create truly unique and customized garments that would be impractical, if not impossible, to produce using traditional manufacturing techniques. 3D printing is not only changing the way fashion is made, it is also opening up new opportunities for manufacturers and other creators to bring their designs to life. As a provider of 3D printing services, Elecrow is helping to lead the way in this exciting field and is a company that fashion enthusiasts and makers alike will want to keep an eye on.
To help you bring your ideas to life, Elecrow even offers a partner seller program that can help you bring your great DIY electronics ideas to market, mass produce and sell them to make money here!