Everything you need to know about Banana pi
Prologue
If you're familiar with the Raspberry Pi, you might recognize the Banana Pi. Both single-board computers have similar features, but their performance and I/O capabilities differ. Although the Banana Pi is a relatively new SBC on the market, its many features show that it has strong potential and great capacity to meet the needs of DIY electronics makers. It supports Linux and Android, making it a versatile option for various projects, just like other single-board computers. The Banana Pi's wide range of applications includes robotics, DIY cluster networks, and more. Taking a closer look at the main model's specifications can help us better understand its computing capabilities, and we can then compare it to the Raspberry Pi to identify potential use cases.
What is Banana Pi?
The Banana Pi is a series of single-board computers manufactured by Shenzhen SINOVOIP Co., Ltd. and its spin-off, Guangdong BiPai Technology Co., Ltd. These companies are supported by Hon Hai Technology (Foxconn). The Banana Pi includes models such as the Banana Pi BPI-M1 and is a well-known name in the SBC market.
Since its debut in 2014, the Banana Pi has stood out as one of the earliest boards to offer support for SATA, enabling easy connection of mass-storage devices. The Banana Pi has earned a reputation for its reliability and user-friendly design, making it a popular choice among SBC enthusiasts and DIY electronics makers.
Banana Pi M4 board
Banana pi has so many product lines that it's very difficult to illustrate the specifications of all those products here, so let's dive into the typical Banana pi M4 board, which shares the iconic Raspberry Pi form factor.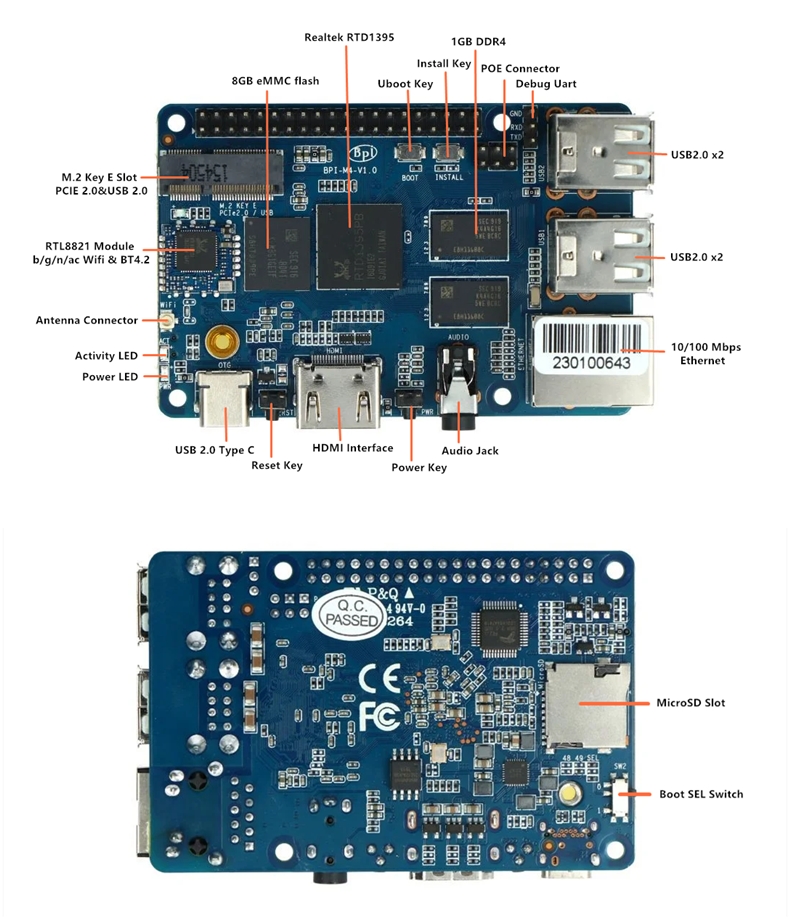 If you want to learn more about the entire Banana Pi product line, check out the link below:
https://www.banana-pi.org/
Specifications
| | |
| --- | --- |
| CPU | · Realtek RTD1395 ARM A53 Quad-Core 64-bit |
| GPU | · Mali 470 MP4 GPU OpenGL ES 1.1/2.0 |
| Memory | · 1-GB DDR4 (optional 2-GB version available) |
| Storage | · 8 GB eMMC onboard flash memory, MicroSD slot (up to 256 GB) |
| Network | · 10/100 Mbit/s Ethernet, Wi-Fi 802.11 b/g/n/AC, Bluetooth 4.2 |
| Video output | · HDMI port with multi-channel audio output support 1080P H.264 H.265 2K/4K |
| Audio output | · 3.5-mm jack and HDMI |
| USB ports | · 4 x USB 2.0 ports, 1 x USB 2.0 Type C |
| PCIE | · M.2 Key E slot PCIE 2.0 and USB 2.0 |
| GPIO | · GPIO (x28), Power (5V, 3.3V and GND), UART, I2C, SPI, or PWM |
| Power input | · 5V 2A over Micro USB (Type C) or PoE Support |
| Size and weight | · 92 × 60 mm, 48 grams |
| OS | · Android and Linux |
Applications
The main advantage of using a computer board like the Banana Pi is its performance. These boards are robust and can handle demanding tasks, especially when used in clusters. In fact, the Banana Pi can perform exceptionally well in a responsive network cluster. In addition, using a cluster of SBCs can be more cost effective than relying on a single high performance chipset. The Banana Pi offers up-to-date specifications for an SBC, and its available ports also add to its appeal. Some models even have a built-in M.2 port for easy connection to an SSD.
Raspberry Pi VS Banana Pi
While Banana Pi and Raspberry Pi share similarities, they are not identical. Banana Pi has a distinct advantage in the variety of configurations available. Depending on the project at hand, some users may prioritize a better CPU over video or audio connectivity, while others may require high-end network connectivity without the need for a high-performance GPU. Compared to its main competitor, the Banana Pi comes in a wider range of configurations, offering greater flexibility to meet different needs.
In addition, the Banana Pi's wider selection of devices also translates into lower prices, making it more likely that users will find a board that perfectly fits their needs without unnecessary costs, ultimately saving them money.
Besides,Unlike the Raspberry Pi, which relies on MicroSD and USB for storage, the Banana Pi is equipped with a SATA port that enables faster connections to mass storage devices such as hard drives. This feature provides users with a more efficient and reliable option for storing and accessing data on their SBC.
The Raspberry Pi has a more advanced video processor than the Mail GPU found in the Banana Pi. For those planning to use HDMI for media streaming, the Raspberry Pi may be the better option. In addition, the Raspberry Pi has the largest following of any single-board computer, while the Banana Pi ranks lower in terms of following.
The Raspberry Pi also has an extensive community of guides, tutorials, and software. In contrast, the Banana Pi has a more limited selection of guides and tutorials, and its software support is not as extensive as that of the Raspberry Pi.
While the Raspberry Pi Model 3 comes with onboard 2.4 GHz 802.11n Wi-Fi that works right out of the box, most Banana Pi models do not have onboard Wi-Fi. However, despite Google's support, the Raspberry Pi still faces some issues in becoming fully compatible with the Android operating system, while the Banana Pi is fully Android compatible.
Also, the 2 types of single boards can share some hardware connection and even be compatible with each other. For instance, the interface adapter for Banana Pi M2 Zero to 4B is a compact device that comes with a 3 USB hub and an RJ45 10/100M port. Its design is based on the size of Raspberry Pi 4B, and it enables the conversion of Raspberry Pi Zero to Raspberry Pi 4B. Moreover, this adapter also guarantees perfect compatibility and the expansion of USB and Ethernet interfaces when used with Banana Pi BPI-M2 Zero.
Final words
Overall, the Banana Pi is an excellent addition to the single board computer market. With its wide range of configurations and competitive pricing, this board is highly relevant and a worthy competitor to other SBCs in its class. Despite its similarity in name to the Raspberry Pi, it offers unique features and capabilities that set it apart.
Looking for a one-stop solution provider for all your electronics manufacturing needs? Look no further than Elecrow! With our expertise in R&D, design and manufacturing, we offer a wide range of products and services to makers, engineers and businesses worldwide.
Whether you're using the Raspberry Pi or the Banana Pi, Elecrow's expert technical support and advanced manufacturing services can help you bring your innovative ideas to life. From PCB manufacturing and 3D printing to component sourcing and sub-assembly, we offer a comprehensive range of services to meet all your needs. And with a commitment to quality and customer satisfaction, we are the ideal partner for business customers looking to streamline their operations and reduce costs.
We even offer a Partner Seller Program for any maker or electronics hobbyist who wants to bring their creative ideas to life; through this program you can turn your ideas into products, mass produce them at Elecrow and sell them for profit!
So why wait? Contact Elecrow today to learn more about our products and services and how we can help you bring your innovative ideas to life!