The Top 5 Fastest 3D printers in 2023
Want to take your DIY projects to the next level? Say hello to the top 5 fastest 3D printers. By choosing the right high-speed 3D printer, makers can eliminate unnecessary waiting time and bring their ideas to life more efficiently than ever before. In this blog, we'll explore the top 5 fastest 3D printers on the market so you can maximize your 3D printing efficiency and creativity like never before.
When most people talk about speed, they are referring to the total time it takes to print an object. Technically speaking, 3D printing speed is the speed at which the print head moves during printing. This can be expressed in a variety of units. The most common units are mm/s for velocity and mm/s2 for acceleration.
Nexa3D XiP- Desktop Resin 3D printer
Nexa3D is focused on building the fastest 3D printers for makers and designers, engineers, and scientists. One of Nexa3D's fastest printers is the Nexa3D XiP high-performance printer.
Combining a small footprint with high build volume and speed, the XiP delivers high-quality prototyping from any workstation. It's based on Nexa3D's patented Lubricant Sublayer Photo-cure (LSPc) technology, which has successfully solved the historical problem of speed versus quality. This technology addresses common concerns about usable power, image uniformity, heat generation, layer delamination, and resin replenishment cycles during a build.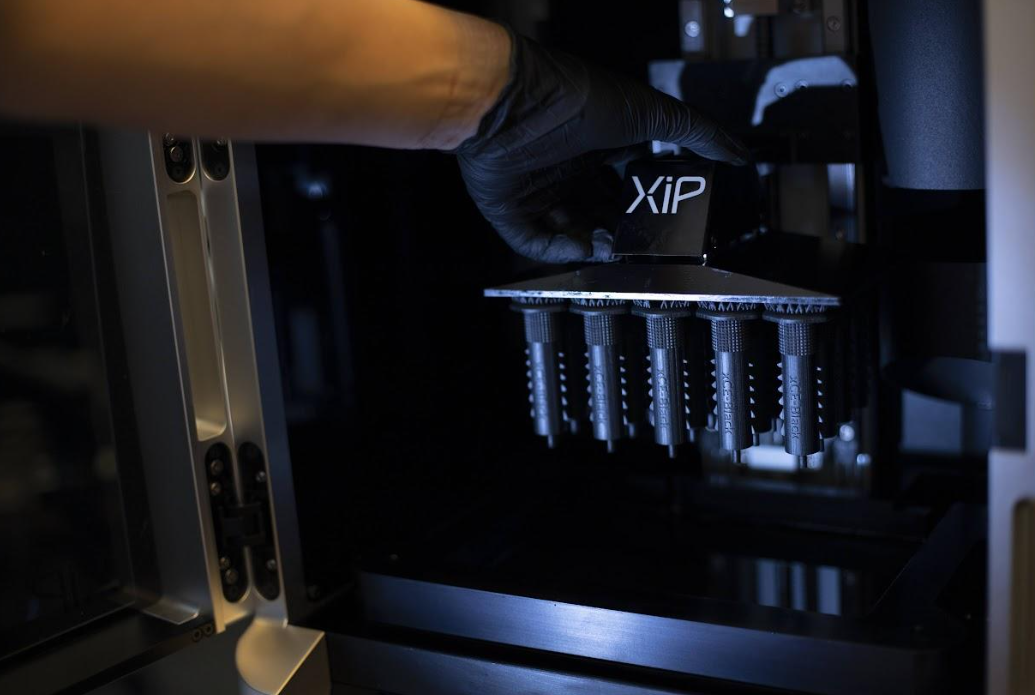 With a build time of just 87 minutes, the Nexa3D XiP printer can print up to 10 times faster than other leading printers on the market, while offering a large build volume of 4.8L and the flexibility to use a variety of materials. While it's best suited for professional printing, the XiP is easily expandable and works with an open materials platform, making it a versatile choice for industries such as engineering and dentistry.
Pros

Cons

High speeds up to 180 mm/hr

Expensive at $6,295

Not Best choice For Electronics Hobbyists

Support for various types of print materials

Easy to upgrade and use

Open materials platform (ability to use resins from other manufacturers).

Made of aluminum, high quality and recyclable

Comes with a sealed lid wash bucket including a basket designed to hold the XiP assembly plate or loose parts and can also be used for post-processing
Flsun Super Racer - Fastest FDM 3D printer
With a top print speed of 200mm per hour, the Flsun Super Racer is one among the fastest 3D printer Delta FDM types that lives up to its speedy name. It's a more advanced version of Flsun's QQ-S, which is a competent and powerful printer for large projects.
In addition to offering faster print speeds than Cartesian printers, Flsun's Super Racer pushes the envelope to new levels. While most standard FDM printers can print solid quality prints at a comfortable speed of 50-60 mm/h, the Super Racer delivers four times as fast.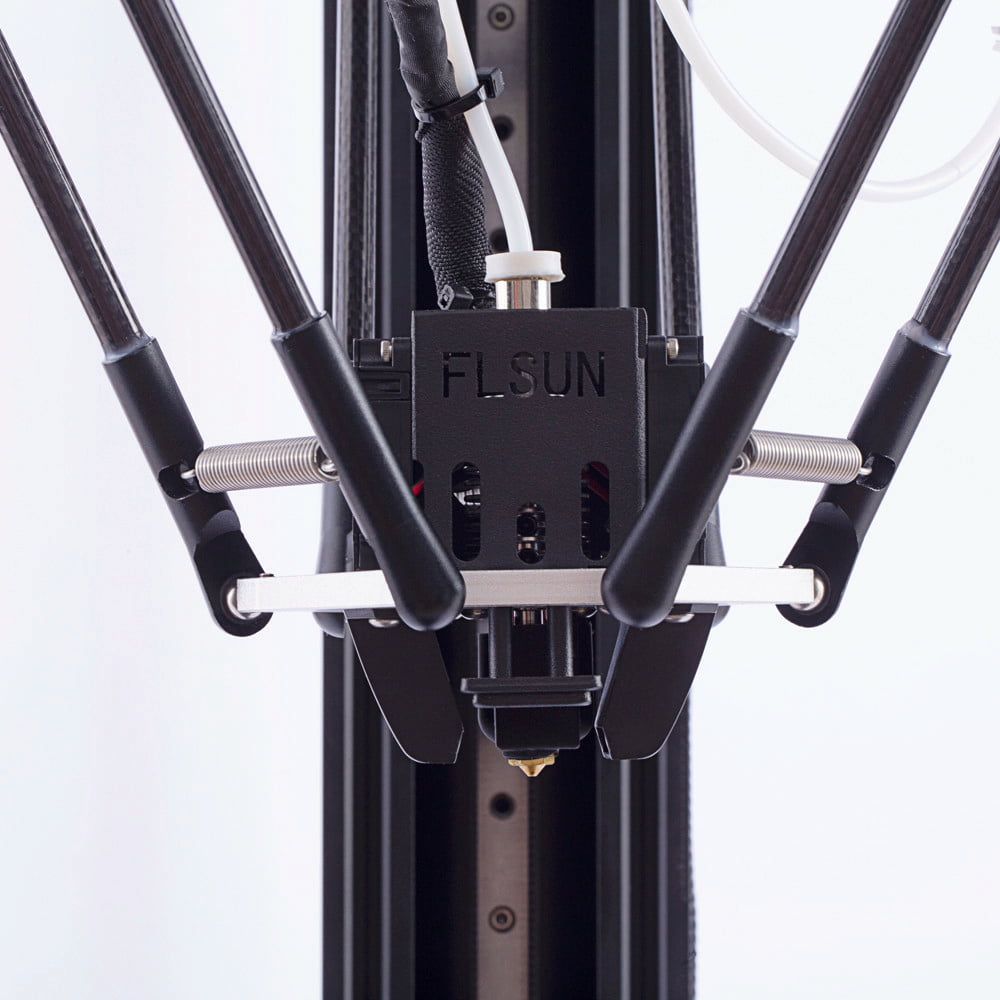 The Super Racer has a decent build volume of 260 x 260 x 330 mm, making it a good choice for large prints that exceed the height of low-cost FDM printers. A quick 20-minute assembly is all it takes to complete the build. In addition to a thoughtful design, quality components, automatic bed leveling, and an easy-to-navigate, detachable touch screen, the Super Racer is a speed freak's dream 3D printer.
All of this speed does come at a price, Delta printers, including the Flsun Super Racer, are not as accurate or as consistent as Cartesian 3D printers. Despite its relative negligibility, it's worth considering before buying for makers who prioritize quality over speed.
In terms of filament, the Flsun Super Racer is great with PLA but has trouble extruding flexibles due to Bowden-related jamming and clogging. The best printer to use for TPU, for example, would be a classic Cartesian printer with a direct drive extruder.
Pros

Cons

Print speeds: up to 200mm/hr, four times faster than most standard FDM printers.

Lack of precision and consistent print quality.

Fast and easy build process.

Appropriate Build Volume

Not Bad Price: Under 500 dollars

Bowden extruder setup can cause jamming and clogging problems with flexible filaments like TPU.
Anycubic Photon M3 Plus/Max – Fastest & Cost-effective Resin 3D printers
As one of the fastest 3D printers that uses resin as printing material, the Anycubic Photon M3 machines are more than simply updates to the long-running Photon series.
With a top print speed of 100 mm/h, the Anycubic Photon M3 Plus offers an attractive 3D printing solution. Resin printers cure in layers, regardless of how much space they take up on the build plate. These benefits apply whether you're printing a single small miniature or a batch of twelve, making the Anycubic Photon M3 Plus exponentially more efficient.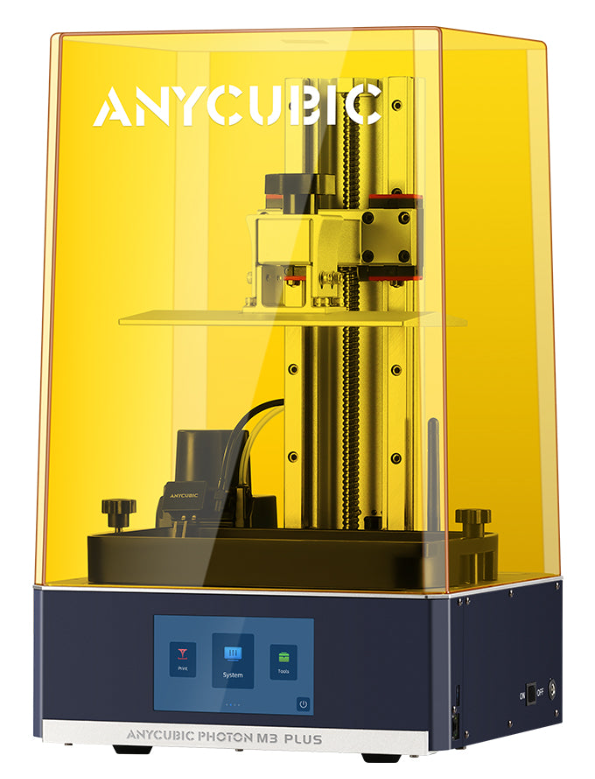 Furthermore, the Photon M3 duo has excellent detail with 34 microns XY resolution on the Plus and 46 microns on the Max. As opposed to comparable printers, the Max comes with a 7K LCD display, one of the highest pixel counts on the market, while the Plus comes with a 6K display. A textured checkerboard build plate from Anycubic provides excellent print adhesion with both machines.
This Anycubic Photon M3 Max printer is no slouch either, with a speed of 60 mm/h, but it spans a massive 298 x 164 x 300 mm area. With a capacity to rival Elegoo Jupiter and Phrozen Sonic Mega 8K, it's the biggest resin printer from Anycubic and among the highest capacities on consumer-grade printers.
Pros

Cons

Large build volume and build plate

Noisy fans

Textured build plate with excellent print adhesion

Photon Workshop sometimes not working

Fast and highly productive.

Fumes can escape from case

Easy to set up

Consumer grade, not for industrial or commercial use

Large, navigable touchscreen

Manual build plate leveling, sometimes time consuming

Good price: Under $1000
Phrozen Sonic Mega 8K– Large& Fast Resin 3D printer
The Phrozen Sonic Mega 8K is a top-of-the-line mid-range resin-based fastest 3D printer that offers a rare combination of speed and size. It has the largest build volume in its price range, with a fast print speed of 70mm per hour and a build volume of 330 x 185 x 400mm. The printer's 43-micron resolution and 15-inch 8K LCD provide unmatched quality and detail. The pre-calibrated build plate and dual linear rail design ensure accurate prints from top to bottom. While the Phrozen Sonic Mega 8K is an ideal choice for businesses in need of a large format printer, it may not be suitable for most hobbyists. For those who need a smaller build volume, there are more affordable options such as the Anycubic Photon M3 Plus or the standard M3.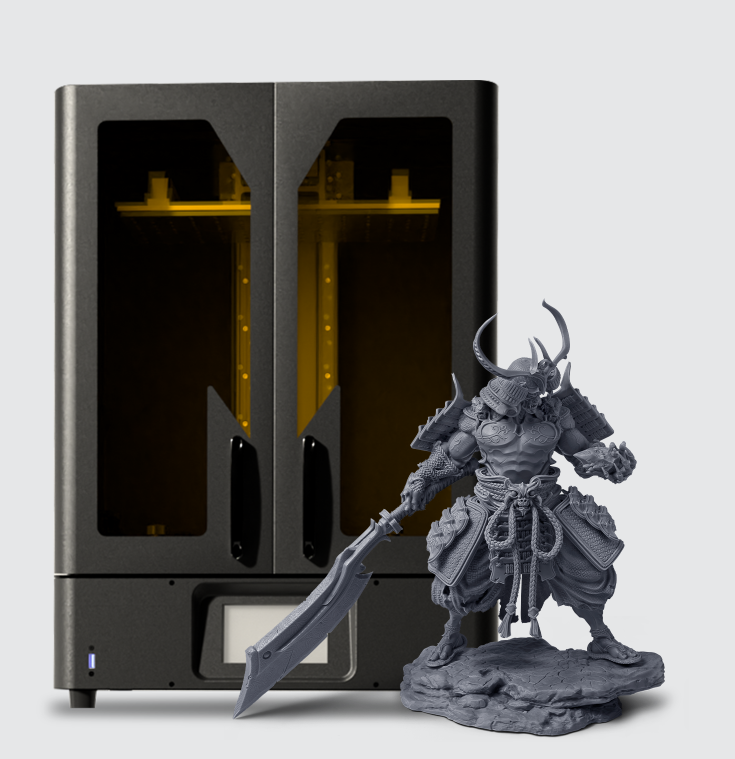 Pros

Cons

Large build volume for the price.

$2,199 may be too expensive for some amateur makers

High speed for its size

Fast and highly productive.

High resolution, producing prints with subtle details.
HP 3D Jet Fusion 5200 — Fastest Industrial

3D printer
HP's recent entry into the 3D printing industry has resulted in remarkable technological advancements, and the debut of the Jet Fusion 5200 is a hit. The Multi Jet Fusion was already known as a fast 3D printer, but the Jet Fusion goes a step further. It's faster than the Jet Fusion 4200 (4000 cc) and 3200 (2800 cc), which were already some of the fastest 3D printers in the world, with speeds up to 4115 cc/hr. Its high-quality 1200 dpi print head resolution produces accurate and smooth parts, and the printer is cost-effective and scalable. While not the most versatile in terms of materials, the Jet Fusion 5200 is still an excellent option for industries that require strong materials such as PA12, PA11 Nylons and TPU.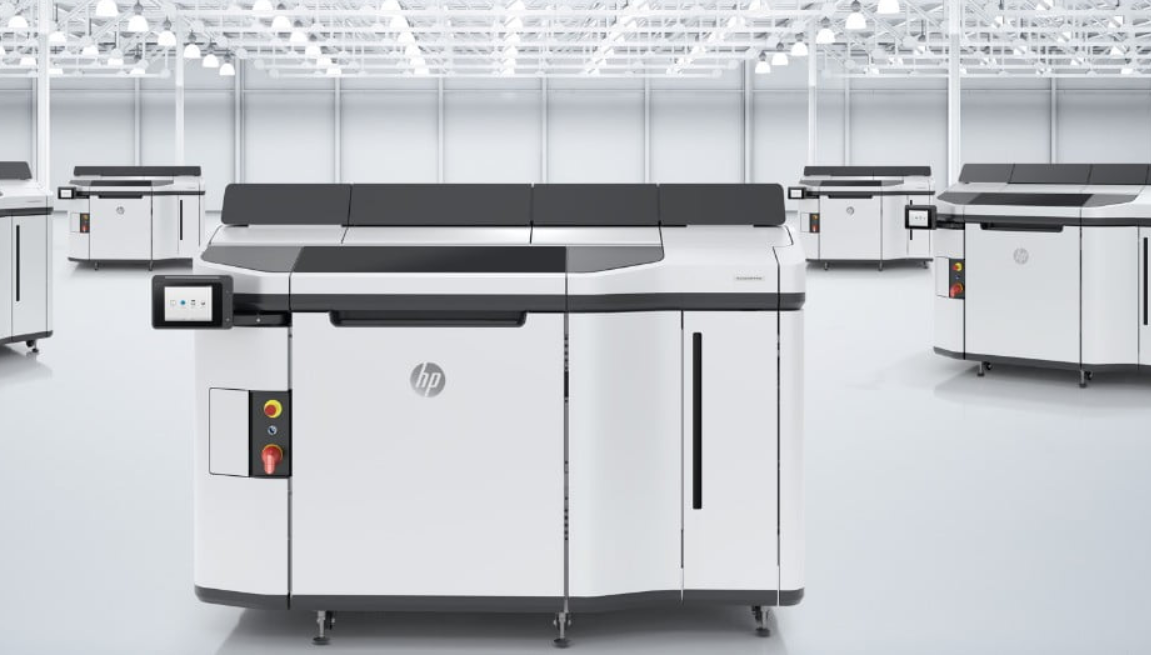 The HP 3D Jet Fusion 5200 is a rare and one of the most powerful and fastest 3D printers for competitive mid-volume 3D printing parts production.
Pros

Cons

High throughput for high part volumes.

Operating costs are increased by expensive consumables.

Removable mounting unit.

Good quality and an accuracy of up to +/- 0.02 mm.

Throughput limitations are given lower packing density.
Final Words
3D printing speed is a critical factor for any DIY electronics project that requires 3D printing, choosing the fastest 3D printer with an affordable price is important to improve the efficiency of any 3D printing project maker.
Sometimes, some makers prefer to turn to a 3D printing service provider instead of buying a 3D printer themselves, but finding a reliable and cost-effective 3D printing service is difficult, which is where Elecrow stands out. Elecrow offers comprehensive 3D printing services for any do-it-yourself project maker, and Elecrow doesn't stop at 3D printing services. We also offer great PCB manufacturing services as a versatile and reliable partner for all your prototyping needs. With Elecrow's cutting-edge technology and commitment to quality, we look forward to helping you bring your ideas to life. Elecrow is also launching a Partner Seller Program for those who want to sell their creative DIY electronics products online and earn rewards!
Check out our 3D printing services, component sourcing, PCB manufacturing, acrylic laser cutting, and more.
___________________________________________________________________________________________________
Btw, Raspberry Pi boards are popular and versatile tools for makers. The latest addition to the lineup, Raspberry Pi 5, is the most powerful version yet. Why not upgrade your projects with this cutting-edge device? Join our Giveaway campaign for Elecrow fans to win a brand new Raspberry Pi 5. Don't miss out! Good luck!
Elecrow Monthly RaspberryPi 5 Giveaway