CANBed FD - Arduino CAN FD Dev Kit

CANBed FD is a development board with an Atmega32U4 microcontroller with 32KB of Flash memory and 2.5KB of RAM. It operates at a frequency of 16MHz and comes with an Arduino Leonardo bootloader, which makes it easy to program using the Arduino Integrated Development Environment (IDE). Alternatively, you can use AVR Studio for development, as the board has an ICSP interface.
CANBed FD uses the MCP2517FD as its CAN controller and the MCP2542 (MCP2557) as its CAN receiver. These chips are high-performance and capable of working with both CAN 2.0 and CAN FD protocols. The board has a micro USB connector for programming and power supply, as well as I2C, UART, and SPI interfaces, 3 analog input interfaces, and 8 digital IO pins.
The CAN interface on CANBed FD is flexible, allowing you to choose between using a 4-pin terminal or a DB9 connector. By default, the DB9 connector uses OBD-II mode, but you can also configure it to use CAN Open mode through hardware. The input voltage range for the CAN interface is 9-28V, and it provides a stable 5V/1A output.
This CAN-Bus development board is fully compatible with the Arduino IDE. The Arduino CAN FD library helps to save time on your CAN project.
---
Part List:
1. CANBed FD PCBA x1
2. Sub-D connector x1
3. 4-pin Terminal x1
4. HY2.0 4-pin Connector x2
5. 9x2 2.54 Header x1
6. 3x2 2.54 Header x1
7. 6-pin switch x1
---
Features:

Compatible with CAN FD and CAN 2.0

Industrial standard 9-pin Sub-D connector or 4-pin Terminal available

OBD-II and CAN standard pinout options at the Sub-D connector

2x4-pin connector compatible with Grove system

SPI interface up to 10 MHz

Power input range: 7-28V

Size: 56x41mm
---
Specifications:
MCU: Atmega 32U4 (with Arduino Leonardo bootloader)

Clock speed: 16MHz

Flash memory: 32KB

SRAM 2.5KB

EEPROM: 1KB

Operate voltage: 7~28V

Input interface: Sub-D
---
Pinouts: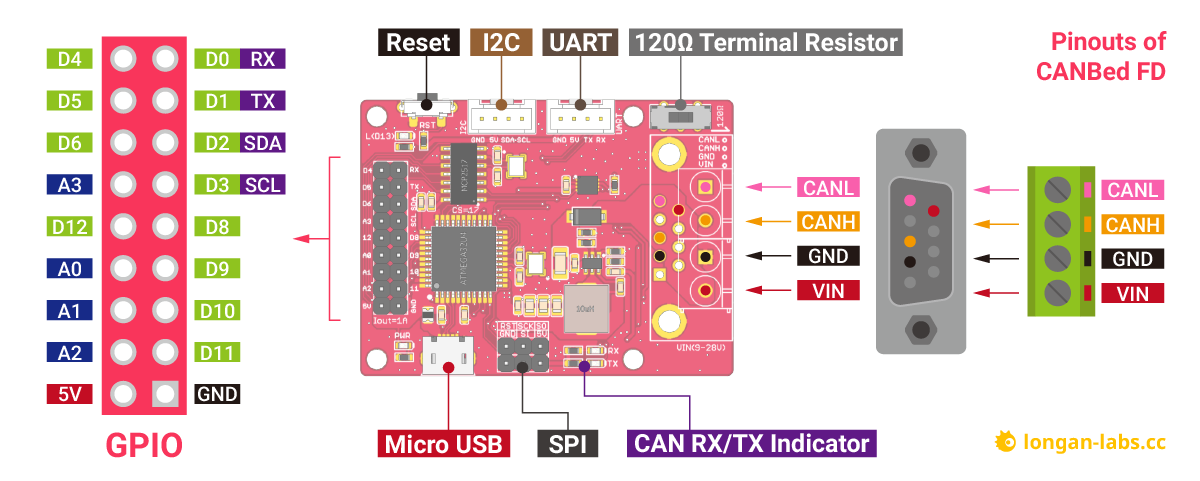 ---
ECCN/HTS:
● HSCODE: 8543709990

● USHSCODE: 8517620090
---
References:
Longan Labs

China
Longan Labs is an innovative company based in Shenzhen, China, dedicated to providing low-cost and reliable open-source CAN Bus modules for global makers.