ESP32-S3-WROOM Chip PCB antenna module 2.4 GHz Wi-Fi&Blue Tooth 5 module
Description
ESP32-S3-WROOM-1 and ESP32-S3-WROOM-1U are two powerful, generic Wi-Fi + Bluetooth LE MCU modules that are built around the ESP32-S3 series of SoCs. The series chips are equipped with Xtensa® 32-bit LX7 dual-core processor (supporting single-precision floating-point arithmetic unit), and the operating frequency is up to 240 MHz. It integrates rich peripherals, and up to 45 GPIOs. In addition, ESP32-S3 has a full-speed USB 1.1 On-The-Go (OTG) interface for USB communication. This module also has powerful neural network computing capabilities and signal processing capabilities and is suitable for various application scenarios in the AIoT field.
More ESP32-S3-WROOM-1 Series,view the datasheet.
More ESP32-S3-WROOM-1U Series,view the datasheet.
Block Diagram
Pin Layout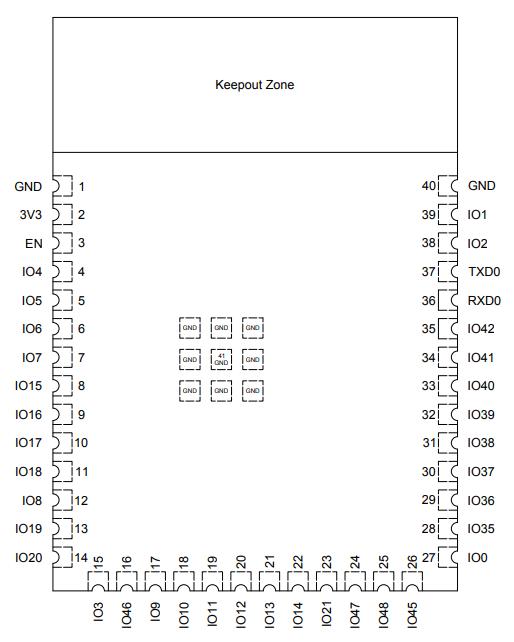 Physical Dimensions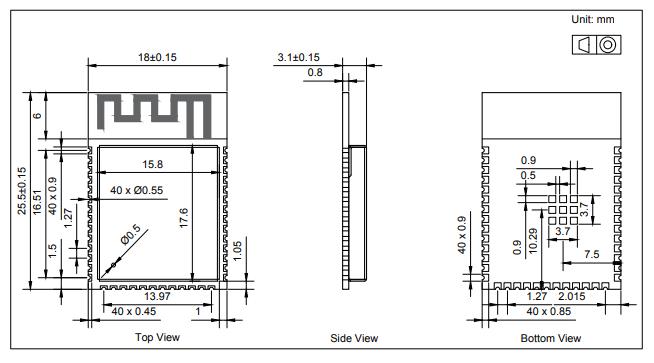 Feature
Wi-Fi+BT+Bluetooth LE MCU module 

On-board PCB antenna (ESP32-S3-WROOM-1)

External antenna via a connector (ESP32-S3-WROOM-1U)

Xtensa® dual­core 32­bit LX7 microprocessor

Up to 16 MB Flash and 8 MB PSRAM

Low-power co-processor

36 GPIOs, rich set of peripherals

CE/FCC/ROHS
Specification
Module: ESP32-S3-WROOM

Core: ESP32-S3-WROOM

Crystal: 40 MHz

Up to 16 MB Quad SPI flash

On­board PCB antenna(ESP32-S3-WROOM-1)

External antenna via a connector(ESP32-S3-WROOM-1U)

Operating voltage/Power supply: 3.0 ~ 3.6 V

Dimensions: (Unit: mm)(18.00±0.15) × (25.50±0.15) × (3.10±0.15)
Application
Generic Low-power IoT Sensor Hub

Generic Low-power IoT Data Loggers

Cameras for Video Streaming

Over-the-top (OTT) Devices

USB Devices

Speech Recognition

Image Recognition

Mesh Network

Home Automation

Smart Building

Industrial Automation

Smart Agriculture

Audio Applications

Health Care Applications

Wi-Fi-enabled Toys

Wearable Electronics

Retail & Catering Applications
Package List
Wiki/User manual