ESP32S Wifi Bluetooth Combo Module
Or you can choose the replace one- ESP WROOM-32, which is producted by espressif, the original chip manufacturers of

esp8266

and

esp32

.
This module ESP32S totally fits for WiFi 802.11b/g/n/e/i and Bluetooth v4.2 BR/EDR & BLE standard, providing a series of solutions of Wifi and Bluetooth to support open real-time operating systems (RTOS). ESP32S also offers an open platform to support users to custom function flexibly in various applications. Not only Integrated with abundant Analog sensing and digital interfaces, ESP32S but also integrates the complete launch/receive radio frequency functions including antenna switch, radio frequency, power amplifier, low noise amplifier, filter, power management module and advanced self calibration circuit. Specifically this module carries two 32-LX6 CPUS, whose dominant frequency is high up to 240MHz with 7-degreed pipeline architecture. And the ESP32 is capable of functioning reliably in industrial environments with an operating temperature range of -40°C to +125°C. Powered by advanced calibration circuitries, ESP32 can dynamically adjust itself to remove external circuit imperfections or adapt to changes in external conditions.
The integrated adapted caching of ESP32S module is good to improve the system function and optimize the system storage. Also the flexible RAM/ROM divides the structure which only allows users to custom for their unique demands and using situations. But beneficially whether ESP32S acts as a stand-alone utility or mainframe MCU slave unit, it all shows perfect all-rounded functions. As a slave unit, ESP32S provides WiFi and WiFi-BT-BLE MCU functions through SPI/SDIO or I2C/UART interface with PCB antenna which is easy to operate, powerful and of wide applications.
On the other hand, this ESP32S chip is designed for low cost ,mobile electrical devices, wearable IOT devices professionally which integrates all functions of 2.4 GHz WLAN and Bluetooth dual mode single chip scheme. Besides it adopts TSMC low-cost 40nano crafts,shares optimal power consumption performance、RF performance、stability、universality and reliability, satisfying for all kinds of applications and different demand of power consumption. As an advanced low-cost chip in the industry, ESP32S features with fine resolution clock gating,saving electricity mode and dynamic voltage regulation. For example, when it is applied to IoT sensor Hub, this ESP32S module can only be waken up periodically on certain terms. Definately the output of radio-frequency power amplifier can also be adjusted to realize the optimal balance among correspondence distance, data efficiency and power consumption.
Follows are points that this ESP32S weighs heavier than ESP8266
· Faster WiFi – Wifi has been upgraded to support HT40 speed (144.4 Mbps) and has a new RF architecture to simplify the application schematics
· Bluetooth Low Energy and Classic
· Dual core processor – 2x Tensilica L108 processors clocked at up to 160 MHz
· Low Power Mode Improvements – ADC conversions, level thresholds, etc.. can now be performed in deep sleep
· Peripherals – Capacitive touch, ADCs, DACs, I2C. UART, SPI, SDIO, I2S, RMII, PMW, etc… but no USB.
· More RAM – ~400 KB on-chip RAM
· Security – Hardware accelerated AES and SSL, and more undisclosed improvements.
· Simplified APIs – Not many details provided here, except WiFi APIs will be simplified, yet keep good flexibility and control.
Features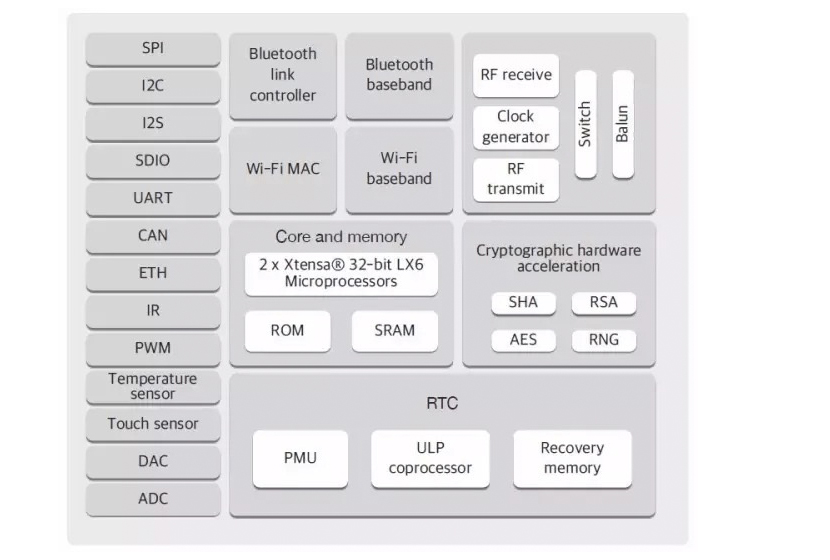 Of Wi-Fi
• 802.11 b/g/n/e/i
• 802.11 n(2.4 GHz) , with speed up to 150 Mbps
• 802.11 e: QoS to realize wireless media technique
• WMM-PS, UAPSD
• A-MPDU and A-MSDU Frame aggregation technique
• Fragmentation and recombination
• Beacon automatic monitoring/scanning
• 802.11 i safe features:Pre authentication and TSN
• Support WPA / WPA2 / WPA2-Enterprise / WPS encrypted
• Basic structure network(Infrastructure BSS)Station mode/ SoftAP mode
• Wi-Fi Direct(P2P)、P2P discover、P2P GO mode and P2P power management
• UMA compatibility and certification
• Antenna diversity and selection
Of Bluetooth
• Bluetooth v4.2 standard including traditional BLE(BR/EDR)and low cost BLE
• Support standard Class-1、Class-2 and Class-3 with no need of external power amplifier
• Output efficiency is up to 10 dBm
• NZIF receiver shares -98 dBm BLE receiving sensibility
• AFH / HID /ATT / GATT
• Based on SDIO / SPI / UART standard interface HCI
• High speed UART HCI which is up to 4 Mbps
• support BT 4.2 controller and host protocol
• Service discover protocol(SDP)
• General access application(GAP)
• Safety management protocol(SMP)
• Support all low cost Bluetooth based on GATT
• SPP-Like low cost Bluetooth data transmission protocol
• BLE Beacon
• A2DP / AVRCP / SPP, HSP / HFP, RFCOMM
• CVSD and SBC Audio encoding and decoding algorithm
• Bluetooth Piconet and Scatternet
CPU and storage
• supply voltage:2.2V to 3.6V
• Xtensa® 32-bit LX6 Dual Core Processor,operational capability is high up to 600 DMIPS
• 448 KByte ROM/520 KByte SRAM/16 KByte SRAM in RTC
• QSPI connects 4 Flash / SRAM at most,and every Flash is about 16 MBytes in largest
The clock and the timer
• RTC watchdog
• 8 MHz oscillator /RC oscillator inside and support self calibration
• Support 2 MHz to 40 MHz crystal oscillator outside
• Support 32 kHz crystal oscillator outside for RTC to support self calibration
• Two timer groups,and every group includes two 64-bit general timer and one main system watchdog
• Euqipped with second order accuracy RTC timer
Advanced specifications
• 12-bit SAR ADC,more up to 18 accesses
• Two 8-bit D/A converter
• 10 touch sensor
Temperature sensor
• Four SPI/ Two I2S/Two I2C / Three UART
• One Host SD / eMMC / SDIO
• One Slave SDIO / SPI
• With special-use DMA Ethernet MAC interface and support IEEE 1588
• CAN 2.0 / IR(TX / RX)
• LED PWM as many as 16 accesses
Safety system
• Support IEEE 802.11 includes WFA、WPA / WPA2 and WAPI
• Flash encrypted
• 1024-bit OTP up to 768 bits available
Encrypted hardware accelerator:
– AES
– HASH(SHA-2)
– RSA
– ECC
– Random number generator(RNG)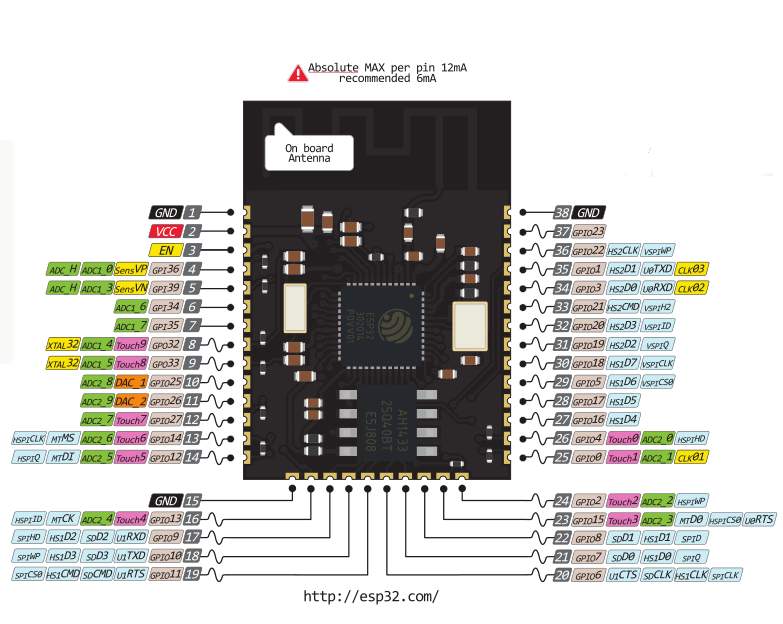 Applications
• General IoT sensor Hub
• General low cost IoT recorder
• Video stream transmission of camera
• OTT TV box/set top box
• Music players
–network music player
– audio media device
• Wi-Fi tools
– register
– tools anti drop device
• Wi-Fi audio recognition devices
• Earphones mic
• Smart plug
• Family auto
• Mesh network
• Industry wireless control
• Baby monitor
• Wearable electrical devices
• Wi-Fi position sensing device
• Safe ID labels
• Health and Medical treatment
– sports monitor and anti-drop alarm
– temperature recorder
Development support:
• Support fast online programmed SDK firmware
• Open source tool chain based on GCC
Size: 16mm x 24mm x 3mm.
Download & External links
Related Forum:http://www.esp32.com/