We're gonna have 7 days holiday for our Chinese Spring Festival starting from 14
th
Feb,2018 to 21
st
Feb,2018, so we will be not able to process the orders placed in the period. But, you are definitely welcome to place any orders because we do the perfect arrangements internally so as to process them efficiently as soon as we get back on 22nd Feb. Here is a chart for easily checking our schedule: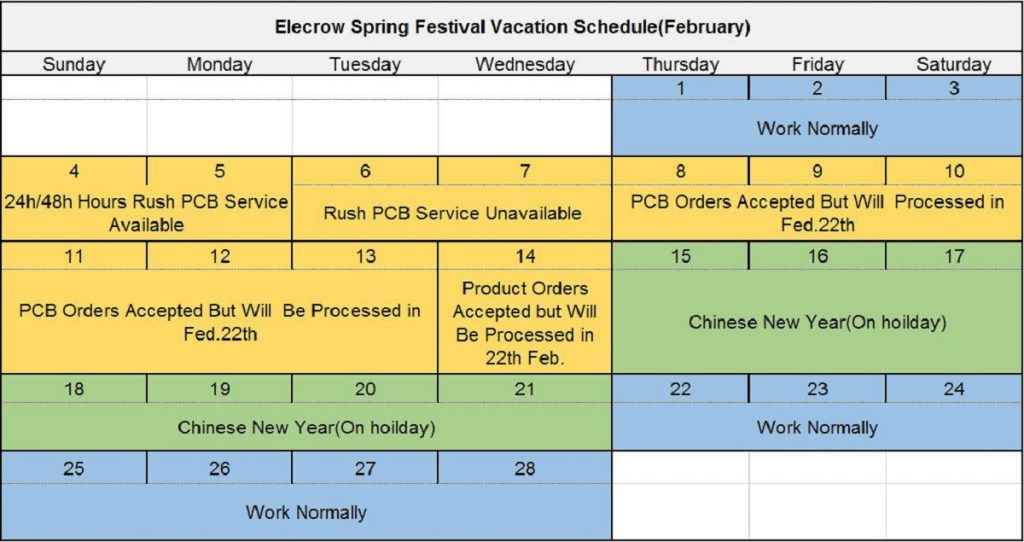 For any chance that you may get questions about the schedule, you are given a further explanation as below to help you out.
1. The rush PCB service
won't be available from 6
th
to 23
rd
Feb.; if you need it urgently, please be sure to throw us an order before 6
th
Feb.;
2. For the regular PCB service(including: PCB prototyping, PCB assembly, Premium PCB ),
the shipping date could be delayed due to the logistics influence as following two situations: If you placed your order during 28
th
Jan. to 31
st
Jan., we're trying to get them shipped asap, but it's possible it will be shipped out after 24
th
Feb.; If you placed your order during 1
st
Feb. to 23th Feb., please expect it to be shipped out after 24
th
Feb.
3. The product orders
won't be processed only during 14
th
- 21th Feb., for the other days we are doing our best to handle them.
4. The lead time for all orders
will return to normal at the beginning of March,2018 affected by the domestic logistics; So, please properly place your order according to the above arrangements.