There Will Be A New Raspberry Pi, But Not Raspberry Pi 5.
As reported by news on November 13, the Raspberry Pi 4 and its related product series have faced serious "supply chain hell" issues, caused by the global chip shortage which has affected many companies, from Apple to Tesla and Ford. Even after boosting its selling price, the Raspberry Pi supply still cannot keep up with the clients' demand, making the Raspberry Pi Development Foundation helpless. However, there is some good news coming.
Creative makers and developers, who prefer multi-functional and affordable Raspberry Pi products, have grumbled about the high price and out-of-stock problems of the popular single-board computer for over two years. As of today, even the smallest 1GB configuration of the Raspberry Pi 4 is selling for more than $100 on Amazon, however, there is some silver lining in the clouds, thanks to the slow recovery of the supply chain, this predicament can finally come to an end.
Eben Upton hinted that the new Raspberry Pi products will perform better in processing, and graphics with enhanced machine learning capabilities, but he didn't equate those words with Raspberry Pi 5.
As some media and makers speculate, the function and direction of this new product will be likely to remain unchanged, it will just be a simple replacement with a cheaper chip, thereby the Raspberry Pi cost can be cut.
Raspberry Pi (Raspberry Pi, abbreviated as RPi, aliased as RasPi / RPI) is a credit-card-sized microcomputer designed for computer programming education, and its system is based on Linux. With the release of Windows 10 IoT, users can use Raspberry Pi to run Windows.
When Will The Raspberry Pi 5 Be Released?
There is probably no more important question about the Raspberry Pi 5 than when it will be released. Raspberry Pi 5 could appear at any time in 2023, theoretically. However, the Raspberry Pi 5 is unlikely to be released until 2024, according to recent reports.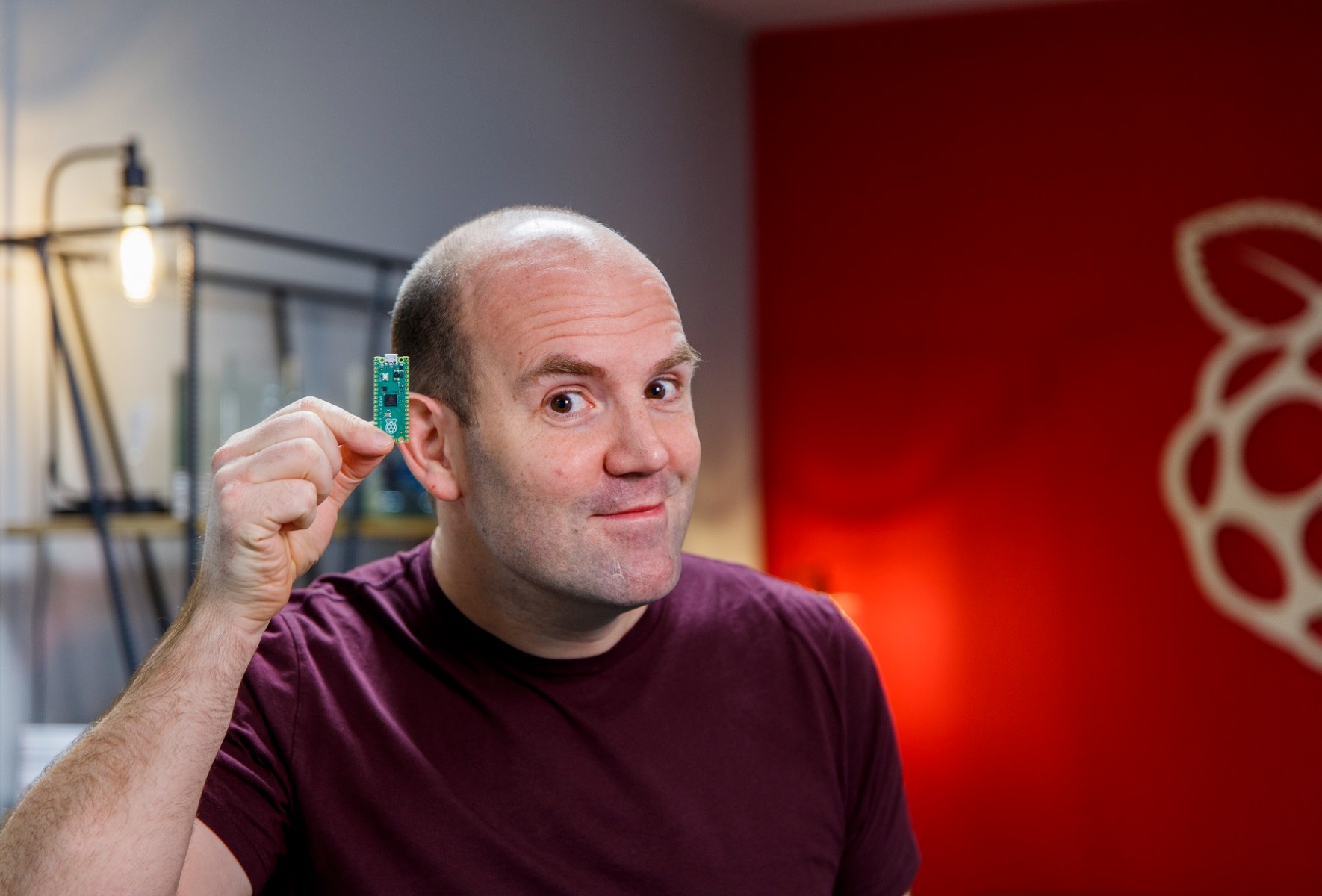 From the debut of Raspberry Pi 4 in June 2019 till now, over 3 years have passed, however, no hint of news has come out for Raspberry Pi 5, Why? Eben Upton, the Raspberry Pi Foundation CEO has made it clear that the company will not launch Raspberry Pi 5 in 2023.
He pointed out that the "supply chain hell" of Raspberry Pi has lasted for 18 months, and the foundation does not plan to launch the next iteration to distract the production of old products until the short supply gets ended.
"Don't expect a Pi 5 next year. Next year is a recovery year," the CEO said. "There's merit, I think, in us spending a year before we look at introducing anything new, spending a year recovering from what just happened to all of us."
What Spec Will the Raspberry Pi 5 Have?
The news circling Raspberry Pi 5 Spec is always so exciting for tech geeks, will there be some surprising updates? How well can this 5-generation SBS work? All makers are wondering about and speculating its hardware specification these days. What RAM will it have, how fast will the CPU be, and can we finally say goodbye to booting from a microSD card?
When the Raspberry Pi 4 was first released, it had Raspberry a quad-core Cortex-A72 @ 1.5GHz, with later releases (such as the 8GB model) boasting 1.8GHz. There is a strong chance that the Raspberry Pi 5 could feature a 2.0GHz processor.
1: Processor
After the Raspberry Pi 4 made its debut, it had Raspberry a quad-core Cortex-A72 @ 1.5GHz, with later releases (such as the 8GB model) featuring 1.8GHz. There is a strong chance that the Raspberry Pi 5 could feature a Broadcom, Quad Core ARM processor with an expected clock speed of 2.0 GHz or greater for better performance, with a 16 GB LPDDR5 SDRAM for enhanced speed and efficiency.
2: HDMI port
Compared to Raspberry Pi 4, there is expected to be an update for Raspberry Pi 5 which might boast full-size HDMI Ports for better video output. There will be 2 HDMI ports with 4K video playback and a 60 Hz refresh rate instead of 30 Hz as in Raspberry Pi 4.
3: USB Ports
The Raspberry Pi 4 has four USB ports, two of which are Thunderbolt (USB 3.0) ports, ensuring fast data transfer rates. One USB 3.0 port is expected to be added to Raspberry Pi 5, which should have three USB 3.0 ports and two USB 2.0 ports. There will probably be a total of five USB ports in the Raspberry Pi 5 model. However, due to the official developers' consideration, the Raspberry Pi 5 system perhaps gets slimmed down by cutting num of USB ports as well.
4: Operating system
As with Pi 4, the Raspberry Pi 5 is also expected to run its OS, called the Raspberry Pi OS, which is Debian-based but will also support 64-bit applications, which would be a very welcome change for Raspberry Pi users.
5: eMMC
This time around, unlike the other models, the Raspberry Pi 5 model is expected to have an eMMC storage drive with the operating system already installed. Due to the faster read/write speed of eMMC storage than SD card storage, adding built-in storage will certainly improve the performance of the device, while also including an SD card for further storage expansion. With the inclusion of eMMC built-in storage, the size of the Raspberry Pi 5 might be a little greater than the Pi 4 model. The Raspberry Pi 5 might be a little larger than the Pi 4 model with eMMC built-in storage.
6: WiFi and Bluetooth
Wi-Fi 6 and Bluetooth were both supported in the last Raspberry Pi 4 model, so they are expected to be present in the Raspberry Pi 5 model with the latest module. Raspberry Pi 5 perhaps will come with a Bluetooth 5.2 version, which provides a greater range of wireless communication and faster connection speeds.
7: Heat Management
As with the Raspberry Pi 4 model, overheating is a major issue, and it's expected that the Raspberry Pi 5 model will include a heat sink to keep the system cool as well as enable it with a long-run powerful performance.
8: Other optimization
Also, a power button should be included in the Raspberry Pi 5. (although this may be wishful thinking) Most current laptops have slimline Ethernet ports, so this is another option, as is a USB Type-C data port with OTG support.
How Much Will the Raspberry Pi 5 Cost?
The Raspberry Pi 4 comes with a price tag of $80, and the Raspberry Pi 5 will most likely be slightly higher than the previous mode since it will be out with enhanced hardware and more powerful capacities. Likely to have a 2.0GHz processor, at least 8GB RAM, possible eMMC, and other upgraded features, the raspberry pi 5 is likely to be around $90 to $100.
Other Raspberry Pi 5 Rumors
Rumors are circling Raspberry Pi 5 these days, these rumors can be recapped as below:
Likely to have a 2.0GHz processor, at least 8GB RAM, and possible eMMC
A 2023 Raspberry Pi 5release has been denied
There is almost certainly no new $5 Raspberry Pi or Raspberry Pi Pico
The Raspberry Pi 5 will probably cost around $90 to $100
Perhaps none of these Raspberry Pi 5 rumors might turn out to be true, but it can be clear that makers and tech geeks can have a greater computer to use when the Raspberry Pi 5 is finally released.
Should we expect Raspberry Pi 5 in 2023?
In theory, the Raspberry Pi 5 is likely to be launched at any point in 2023. However, by recent reports, the Raspberry Pi 5's release date won't be until 2024.
"The good news is the second half of next year, 2024 onwards, some of those things start to abate. And that's the point where we can start to think about what might be a sensible Raspberry Pi 5 platform," Upton said.
The global chip shortage has also prompted the delay, the launch of the Raspberry Pi 5 now is likely to be postponed till 2024.
The normal cadence of Raspberry Pi releases is a new "model B" every 3-4 years. From the Raspberry Pi 4 to the adjourned Raspberry Pi 5 - the 5 years become the longest gap between Raspberry Pi releases in the almost 11-year history of the product.
When Will The Raspberry Pi Be Back in Stock?
After two years of "supply chain hell" issues, Raspberry Pi computers should be easy to purchase again in Q3, 2023. Raspberry Pi's CEO, Eben Upton, posted a blog on 13th, December 2022, with the title "Supply chain update – it's good news!" In the blog, Upton stated that the company has allocated around 100,000 units for consumers. The company has been prioritizing its commercial customers, with the 100,000 units for enthusiasts containing "Zero W, 3A+ and the 2GB and 4GB variants of Raspberry Pi 4".
We have posted a blog illustrating more about the Raspberry pi stock issue, see more here:
Why is it so hard to buy Raspberry Pi these days?
Learning about the latest tech news about the maker industry is so interesting and can deepen insight for your maker knowledge, Elecrow aims to provide you with all-inclusive and latest industry knowledge about the maker and tech field, there are also some great services Elecrow can provide for tech geeks, makers, hardware programmers, etc.
Elecrow is a one-stop solution platform providing services to tech geeks and makers around the world, including PCB assembly, PCB manufacturing, and component sourcing. Elecrow can provide makers and electronics enthusiasts with the electronic parts they need to complete their projects.
Elecrow has strong supply chain sources and can provide you with a variety of components with high-quality and competitively priced components through multiple channels. From the resistor, capacitor, inductor, diode and triode, rectifier bridge, and IC to any type of connector, shell, wire/cable, and button, Elecrow can help you source them all. The service is designed to save you money and time so that you can concentrate on your work and not worry about sourcing issues.
Elecrow also provides a sales platform for DIY electronics makers and welcomes partner sellers to sell their products and earn benefits!