Merry Christmas!
Christmas is coming and it's time to be a maker to decorate ourselves. A lot of customers shared their DIY Xmas projects with us in Elecrow Facebook Group. The following projects are some great projects that I picked out. please feel free to share your projects and happiness with us.
Stars PCB with WS2812B LEDs
This porject was shared in Elecrow facebook group by Tomek Dutka. it's the most welcomed Xmas project.
Hi everyone, I present stars PCB with WS2812B leds.
Stars can be controlled with arduino but because of too little free time I used a driver SP103E with radio remote control.
For each star you can be made any visual effect and on the each star the visual effect can be different at the same time. You're limited only by the imagination and programming skill.
Each star has 21 SMD LEDs. LEDs are soldered to the top side of the PCB while the remained components are soldered to the bottom layer of the PCB. In addition, on each circuit board includes elements such as: - 330R resistor, capacitor 10uF / 10V Schottky diode BAT54S, 100 nF capacitor for each led.
Below are some photos and video but in reality it looks much better. Sorry I do not have a good camera so the movie looks weak. https://youtu.be/JOvYXHLiUSY
Thank you for PCBs ELecrow.
Merry Christmas.
Christmas Santa PCBs
Hello,
this is my Christmas decoration. It is a Santa Claus with leds on his belt and an ESP8266 with DFPlayer Mini to make it sing. Hope you like it . I will post later this month pictures with the PCB (when it arrives) and the firmware. Happy holidays !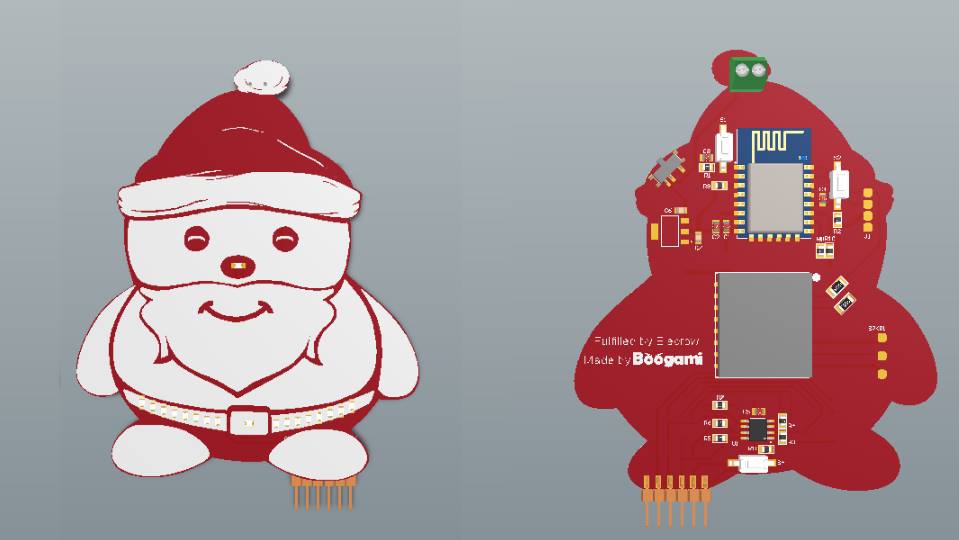 A christmas project that has LEDs and can sing a song.
Christmas decoration
Shared by Mihai Ganea at Elecrow Facebook group. https://www.facebook.com/groups/Elecrow.Custom.PCB/permalink/2274361016118953/
Hello this is my Christmas decoration for this year, hope you will like it. It contains simple LEDS RGB (2121 package) with an ATtiny85,a LED control IC IS31FL3236A and a LiPo charging circuit.
Merry Christmas!
Xmas PCB tree with ws2812 leds
Shared by Chantal Thivierge at Elecrow facebook group. https://www.facebook.com/groups/Elecrow.Custom.PCB/permalink/2274239519464436/
Our famlly project for this year contest. Daddy did the design, mommy did the SMD soldering, the kids did the TH soldering and final assembly. Each tree have 136 ws2812b powered using an esp8266. A rotary dip switch is used to select the animation and a potentimeter is used to dim the intensity of the leds. 4 of the trees were given to the kids teachers as a special Christmas gift.
Christmas Star 2016
Shared by Dementor Loxur is at elecrow facebook group.
This is my project of Christmas Star 2016
Made easy with Atmega8 with 60 leds, powered by CR2032 will work about 3 months.
Below you can download PCB project and firmware.
Merry Christmas:)