Everything you should know about Orange Pi 5
Prologue
Powered by an 8-core Rockchip RK3588S SoC, the Orange Pi 5 is a giant leap forward in single-board computing and is said to be faster than the aging Raspberry Pi 4. With 4-32GB of LPDDR4 RAM and an eMMC module for 32GB to 256GB of built-in storage, a quad-core RM Cortex-A55 processor with Mali-G52 graphics, the Orange Pi 5 enables a wide range of developers, engineers and makers to create any open source hardware product they want. You can even use it to build a low-cost Arm Linux developer desktop.
What is Orange Pi?
Orange Pi is a family of cost-effective open-source single-board computers(SBC) that are similar in design to the Raspberry Pi and developed by the Chinese company Shenzhen Xunlong Software CO., Limited. First released in 2014 and with multiple iterations, these mini-PCs are based on various chipsets and offer a range of features suitable for open-source developers and makers to develop a variety of projects.
The Orange Pi's affordability is a standout feature, making it an attractive choice for individuals looking for a budget-friendly single-board computer. In addition, the Orange Pi offers a wide range of features such as exceptional computing power, superior high-definition video playback, and compatibility with multiple operating systems.
The pros and cons of Orange Pi 5
The Orange Pi 5 isn't quite as compact as the Raspberry Pi 4, but it's still a relatively small device when you take into account all the things that come with it. Let's take a look at what makes it an excellent choice for small computing.
Pros:
New-Generation AIoT Chip
The Rockchip RK3588S represents a new generation of AIoT chips that prioritize increased performance and reduced power consumption. Compared to its predecessor, the Rockchip RK3399, this chip delivers four times the performance and promises 6 TOPS of AI processing power. In addition, the chip's support for INT4/INT8/INT16 hybrid computing enables it to effectively enable a range of AI scenarios.
Supporting multiple operating systems
With support for various programming languages and operating systems such as Android 11, Ubuntu and Debian, the Orange Pi 5 is a flexible and powerful SBC that can be tailored to a wide range of needs,enabling it a versatile choice for a wide range of projects.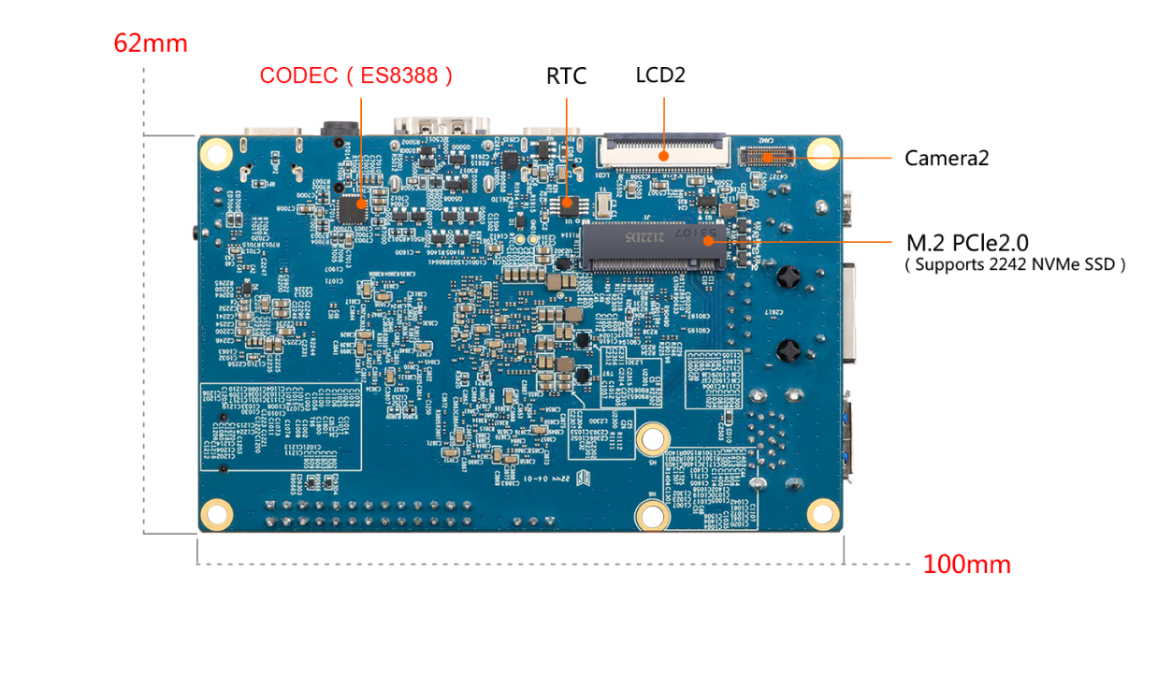 Great software and hardware design
The Orange Pi 5 comes with pre-installed applications such as Chromium, VLC and LibreOffice, making it ready to use right out of the box. Its interface is thoughtfully designed with intuitive icons and menus to enhance the user experience. The Orange Pi 5 features a sleek and modern matte black finish, compact size, and a built-in heat sink that helps maintain optimal performance while dissipating heat. These features make it an ideal option for integration into various projects and easy transportation.
Flexible Storage & Memory
The launch of the Orange Pi 5 has brought a wealth of opportunities for creative exploration thanks to its diverse storage options. According to the manufacturer, users can choose from a range of LPDDR4 RAM options, including 4, 8, 16 and 32GB, as well as storage options such as the 16MB SPI Flash and M.2 NVMe SSD slot. However, sourcing these components can be a challenge. The M.2 PCIe 2.0 socket offers impressive data transfer speeds of up to 300MB/s on average, making it ideal for both reading and writing data.
Exceptional Image Performance
One feature that stands out about the orange Pi 5, the single-board computer (SBC) is its dual video output capability. Equipped with a display port and a full-sized HDMI port, it can display stunning 8K resolution screens simultaneously, as long as the operating system is capable of supporting it. Furthermore, the SBC has three MIPI inputs for video cameras, making it suitable for a range of applications. It's important to note that the display port and USB 3.1 ports share a multiplexed connection, and the Type-C port is shared with the former.
Supports Neural Processing
Thanks to its Mali-G52 GPU, which can handle neural processing and reach clock speeds of up to 800 MHz, the Orange Pi 5 is an ideal choice for projects that require high-performance machine learning and AI applications. The GPU's support for Vulkan, OpenGL ES 3.2, and OpenCL 2.0 enables it to perform various machine learning tasks, including image and speech recognition, as well as natural language processing.
Easy expansion and customization
The Orange Pi 5 features a form factor that is reminiscent of the Raspberry Pi, complete with a 40-pin GPIO header that makes customization and expansion a breeze. Users can also add more storage if needed through the microSD card slot included in the device.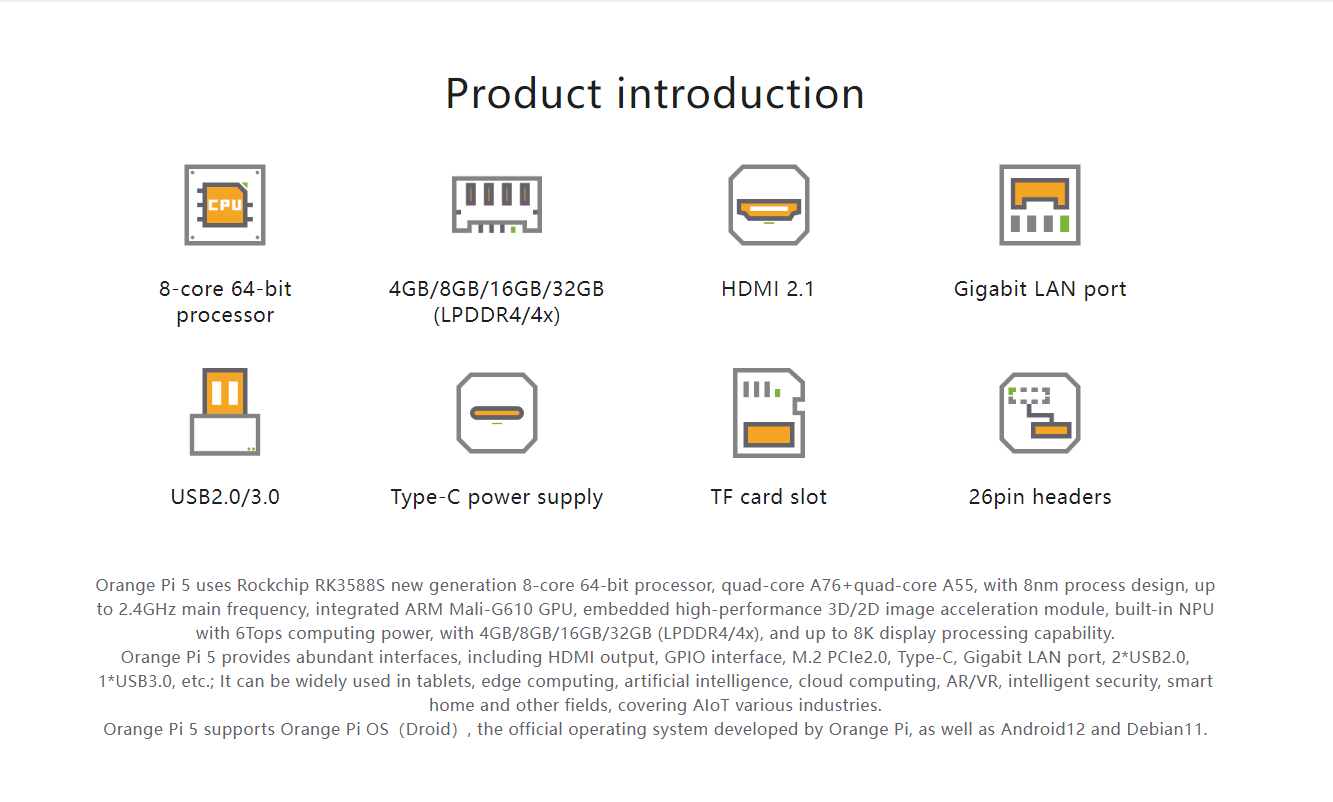 Other features
It also features Gigabit Ethernet, HDMI 2.0a, and a camera module interface, making it an ideal platform for DIY projects, robotics, IoT, and image and video processing applications.
Cons:
Limited tech resources
The Orange Pi single board computer may present some challenges for users due to its limited community support and resources, which can make it difficult to find help with projects. In addition, the Orange Pi 5 may be more difficult to purchase than other single-board computers due to limited availability. Its functionality and versatility may also be limited by a lack of available accessories. Users may also face challenges in setting up and using the Orange Pi 5 due to limited documentation.
High Power consumption
Another potential drawback is its higher power consumption compared to other single-board computers, which can impact both cost and usability.
Orange Pi 5 vs Orange Pi 4
CPU performance
The release of the Orange Pi 5 in late 2021 marked a significant upgrade from its predecessor, the Orange Pi 4. One of the most notable improvements is the use of the RK3566 chipset, which provides a significant performance boost over the RK3399 chipset embedded in the Orange Pi 4. The RK3566 features a quad-core Cortex-A55 CPU, a Mali-G52 graphics processor(GPU), and support for LPDDR4 memory.
During the Geekbench 5 benchmark, the Orange Pi 5 showed impressive performance with a score of 1016 for single-core and 2869 for multi-core processing. In comparison, the Orange Pi 4 scored lower with 860 for single-core and 2733 for multi-core processing.
Bluetooth and Network Connection
In addition to improved processing power, the Orange Pi officially launched the latest Orange Pi 5B, which includes built-in Wi-Fi 6 and Bluetooth 5.0 for easy connectivity to other devices and networks.
Although the Orange Pi 5 has no built-in wireless capability, it does have an M.2 connector for use with an optional custom Wi-Fi 6 + Bluetooth 5.0 module.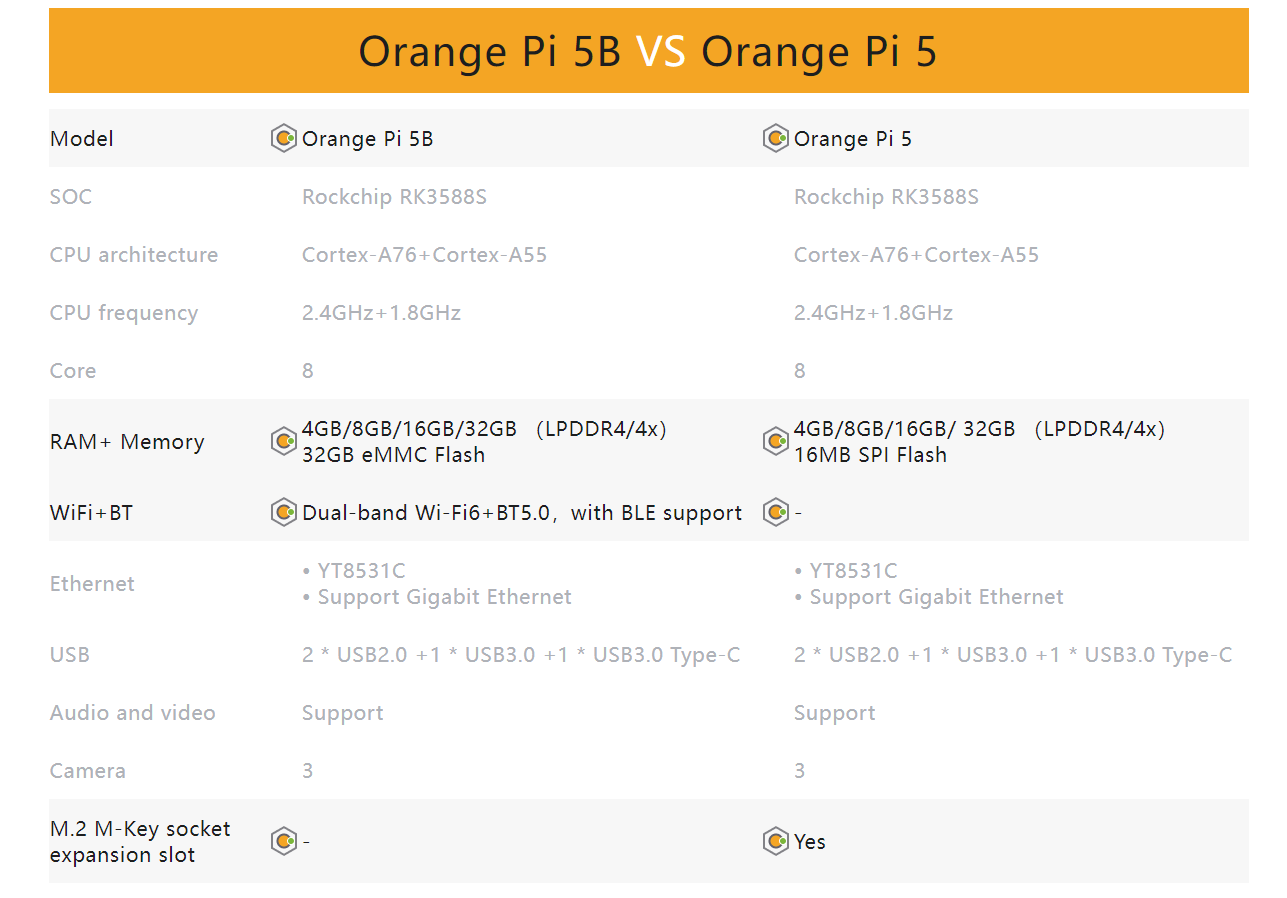 See more differences between Orange Pi 5 and Orange Pi 5B here: http://www.orangepi.org/html/hardWare/computerAndMicrocontrollers/details/Orange-Pi-5B.html
For projects that require high-speed data transfer, the Orange Pi 5 series' Gigabit Ethernet port provides fast network connectivity. In the iperf3 benchmark, the Orange Pi 5 demonstrated impressive performance with a maximum throughput of 940 Mbps, which is close to the theoretical maximum for Gigabit Ethernet. This score is significantly higher than the Orange Pi 4, which achieved a maximum throughput of 727 Mbps, making the Orange Pi 5 a superior option for high-speed data transfer requirements.
Video Playback
Another significant improvement is the Orange Pi 5's support for 8K video playback, a step up from the Orange Pi 4's support for 4K video playback. This upgrade makes the Orange Pi 5 a great choice for projects that require high-definition video playback.
Power Consumption
The Orange Pi 5 has a higher power consumption compared to other single-board computers, which can affect its cost and usability. According to power consumption benchmark tests, the Orange Pi 5 recorded 3.3 watts at idle and 7.3 watts at full load, which is notably higher than the Orange Pi 4's consumption of 2.6 watts at idle and 5.2 watts at full load.
Data Transfer Aspect
The Orange Pi 5's M.2 NVMe slot offers faster storage options, making it an excellent choice for those who require fast data transfer rates. According to the results of the CrystalDiskMark benchmark, the Orange Pi 5 achieved impressive read and write speeds of 1,463MB/s and 997MB/s respectively. These scores are significantly higher than the Orange Pi 4's read and write speeds of 433MB/s and 173MB/s respectively.
Final Words
Elecrow is a PCB (Printed Circuit Board) manufacturing company providing high quality PCBs for a variety of applications including single board projects such as Raspberry Pi and the Orange Pi.
Elecrow offers Orange Pi users a range of services including PCB design and assembly, prototyping, 3D printing, acrylic laser cutting, component sourcing and mass production. Elecrow uses the latest technology and manufacturing techniques to ensure that its PCBs are of the highest quality and meet the needs of its customers.
If you are looking for a reliable PCB manufacturing company to support your Orange Pi projects, then Elecrow is definitely worth considering. Elecrow's expertise and commitment to quality make them a great choice for anyone looking to bring their ideas to life.
If you're interested in learning more about single board computers, please bookmark the Elecrow blog.
If you're a maker with great ideas to create some cool electronic projects and want to sell them but don't want to worry about professional help, join Elecrow's Partner Seller Program to earn your benefits, and if you have needs for mechanical keyboards, Elecrow has launched a special spring promotion for mechanical keyboard related services and welcome you to join our activity.
___________________________________________________________________________________________________
Btw, Raspberry Pi boards are popular and versatile tools for makers. The latest addition to the lineup, Raspberry Pi 5, is the most powerful version yet. Why not upgrade your projects with this cutting-edge device? Join our Giveaway campaign for Elecrow fans to win a brand new Raspberry Pi 5. Don't miss out! Good luck!
Elecrow Monthly RaspberryPi 5 Giveaway