Crowtail shield for Raspberry Pi Pico (RP2040)
Description
Raspberry Pi Pico is a new popular low-cost, high-performance microcontroller board. This Pico board can be well integrated with Crowtail sensors. Without jumpers and breadboards, you can quickly build prototypes and projects, and explore the endless possibilities of Pico.
Crowtail Shield for Pi Pico is a plug-and-play expansion board for Raspberry Pi Pico, integrating various Crowtail connectors, including 2*I2C, 3*Analog, 2*UART, 3*Digital ports, 1*BAT, SWD debug interface and SPI pin, 3.3v/5v selectable power switch. The shield board is a stackable add-on board. You can directly use the Pre-Soldered Pico and plug it into the shield board, connect the Crowtail series sensors, and start developing your new project.
Learn more about the Crowtail series, click here. Get the Pico board together, click here.
Hardware Overview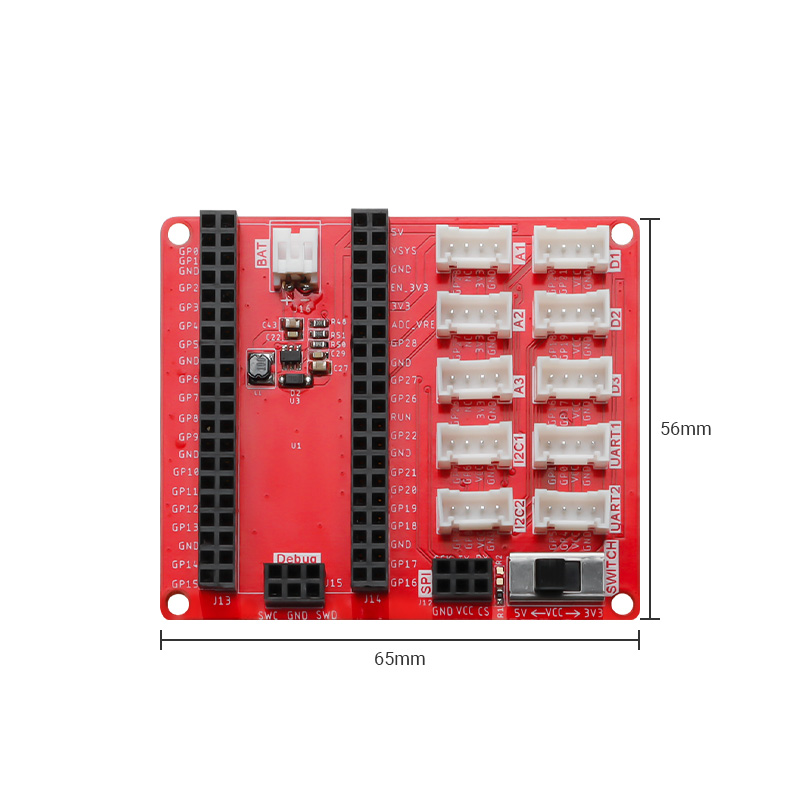 Feature
Crowtail GPIO Expansion Board for Pico: Separate the pins and power supply of the board, providing 10 additional Crowtail ports

Rich Peripherals for Crowtail: Provides 10 Crowtail ports, including 2 I2C, 2 UART, 3 digital and 3 analogs, 1 SPI port, 1 power switch, 1 BAT interface, and SWD debugging interface.

No soldering required, plug and play: support direct connection to Crowtail sensors

Platform support: MicroPython & Arduino
Specification
Analog Port: Include 3 analogs ports, A1, A2, A3

Digital Port: Include 3 digital ports, D1, D2, D3

UART Port: Include 2 UART port

I2C Port: Include 2 I2C ports

SPI Port: Provide one SPI port

BAT Port: Provide one BAT port

Power Switch: Provide 5V/3.3V selectable power switch

Operating Temperature: -25℃ to +85℃

Operating voltage: Input power 3/5 V

Dimension: 65mm * 56mm

Weight: 26g
Package List
1x Crowtail Shield for Raspberry Pi Pico
Wiki & External links