HD to VGA Audio adapter, HDMI-compatible
    This HDMI-compatible to VGA+ Audio Adapter helps you when you want to connect a computer or tablet that with HDMI-compatible output to a VGA input device. This nifty adapter cable has a classic HDMI-compatible plug connector at one end and at the other end a DB-15 VGA connector. There's also a 3.5mm audio jack on the side, which provides stereo headphones (HDMI-compatible cables carry both video and audio). You may also need a VGA DB15 male/male cable (not included) to connect this to your monitor!
    When using this module with a Raspberry Pi, we suggest editing config.txt to set "hd_safe=1" output for best results (otherwise, the Pi may not 'recognize' the HDMI-compatible display and revert to composite output). The easiest way to do that is to insert the programmed Pi SD card into your computer and look for the config.txt file that is in the root directory of the SD card, edit it, and save it.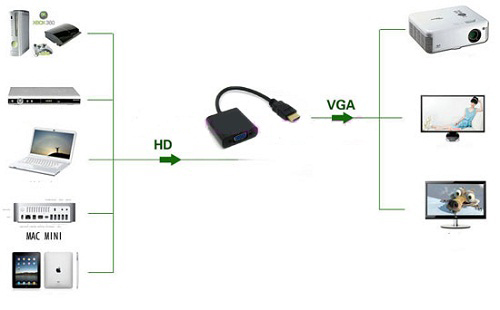 Specification
Power Input: No need extra power, power supply from HDMI-compatible Power.
It has a built-in chip to transform the signal. ONLY work for HDMI-compatible to VGA.
It supports full-size high-definition resolution of 720p or 1080p.
Suitable for All HDMI-compatible input device (like PC, DVD, PS3, Xbox360, etc ) and VGA output device (like monitor, projectors, etc).
Built-in chipset.
Support Audio output, 3.5mm headphone cable included
Length: 200mm .
Color: Black or White
Standard HDMI-compatible plug
Standard DB15 VGA socket