Top 6 DIY 3D Printed Raspberry Pi 4B Case Solutions
A standard Raspberry Pi 4B case costs money, is mundane, and can't fit everyone's unique needs, but 3D printing a case is custom and flexible. In this article, we've collected the six best DIY 3D-printed Raspberry Pi 4B case solutions. Building the project yourself will make things more fun and convenient. So let's dive in and see how these designs can take your Raspberry Pi experience to the next level!
Compared to traditional additive manufacturing technology and standardized Raspberry Pi 4B cases, 3D printed case methods for Raspberry Pi 4B cases can work well in cosmetic and functional customization, opening up more innovative possibilities for makers.
Advantages of 3D printing your own Raspberry Pi 4B case
3D printing your own Raspberry Pi 4B case has several advantages:
● Cost-effectiveness
3D printing your own Raspberry Pi 4B case can be significantly cheaper because you can choose free Raspberry Pi 4B case designs available online and use 3D printing materials you already have, making it more affordable than buying a pre-made Raspberry Pi 4B case;
● Customization
Making your own Raspberry Pi 4B case gives you a wider range of choices for colors and sizes, and you can even customize and modify the design to suit your personal needs and preferences, making it more flexible and customizable than buying;
● Learning Opportunities:
You can practice your DIY skills: Building your own Raspberry Pi 4B case can be a learning opportunity to learn 3D printing techniques, giving you a better understanding of the manufacturing and printing process;
● Sustainability
3D printing can reduce material waste and energy consumption due to the 3D printing mechanism, and there are biodegradable and strong filaments such as 3D printer filament PLA Plus, all of which make it more environmentally sustainable.
So let's introduce the following 6 3D printing solutions for Raspberry Pi 4B cases.
1.Raspberry Pi 4B case with air vents
Designed by Thingiverse user Félix Gargia, this spacious 3D-printed Raspberry Pi 4B case is made up of two parts. It has holes for ventilation and can be used as a Raspberry Pi streaming box or for RetroPie games, and can be placed next to a TV or monitor. There are also cutouts on the side to allow DIY electronics makers easy access to the various cable ports on the Raspberry Pi 4B. You can download the STL files from makerbot thingiverse website or get them from the link below the image, but you will need some M3 screws to mount the Raspberry Pi to the case.
You can find the STL files here: https://www.thingiverse.com/thing:3723683
2. Raspberry Pi 4 1U rack mount bracket
This 3D printed Raspberry Pi 4B case is a popular design posted on Thingiverse by Russ Ross to create a 1U rack mount bracket that can hold up to six Raspberry Pis. The design secures a cluster of Raspberry Pis in a standard server rack and uses PoE HAT to power the Raspberry Pi over Ethernet. The parts required for printing include six frame parts, six tray parts, and a pair of ear parts, as well as threaded nuts, hex nuts, PoE switches, and cables compatible with Ethernet.
This 3D printing design is not the most complicated project available but may be more suitable for 3D printing enthusiasts with some experience.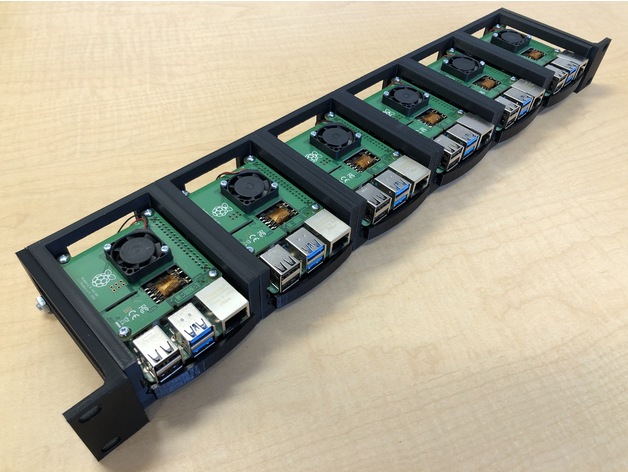 You can find the STL files here: https://www.thingiverse.com/thing:4125055
3. Retrocube case for Raspberry Pi 4
If you are interested in simulating arcade games and are looking for a case to do so, this case may be the right choice for you. The design of the case is inspired by the problem block in Super Mario games that releases a mysterious item when you hit it.
You can find the design file for the Raspberry Pi 4B case on Thingiverse. It is printed in three sections with room for a fan at the top. M4 screws are used to mount the fan and cover. The designers have also provided an alternative version for the Raspberry Pi 3/3B+. Maybe this Retrocube box will also release hidden objects when hit?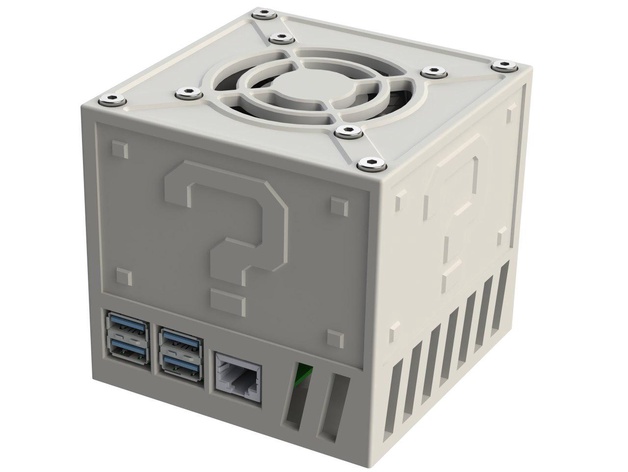 You can find the STL files here: https://www.thingiverse.com/thing:4059929
4. Customizable Raspberry Pi 4B case and stand
Manuel has designed a very avant-garde Raspberry Pi case and one of the most visually appealing cases. This case has a small and attractive appearance, is suitable for most projects, and has ventilation holes and slots for cooling. If you want to make further modifications to the case, customizer scripts are also available. All in all, this is a simple design that does not require 3D printing support. The parts are designed to fit tightly together, so you don't need to use screws or glue to complete the case. The designer has also made several previous iterations of the Raspberry Pi 3 and provides many useful tips to help you bring the design to life.
You can find the STL files here: https://www.thingiverse.com/thing:3723561
5. Raspberry Pi 4 Desktop Tower Case
This case is perfect for those who do not need to move the Raspberry Pi frequently. It can be equipped with a heat sink or cooling fan according to the user's needs. This design initially uses a separate heatsink and tower cooler to cool the overclocked Raspberry Pi 4.
If you are not completely satisfied with the look and functionality of the case, the creators have added STEP files to the CAD software to make it easier to modify the design. You can find all the project files on Thingiverse.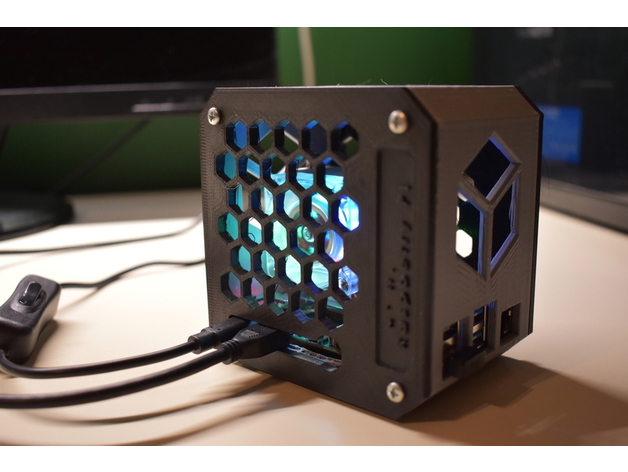 You can find the STL files here: https://www.thingiverse.com/thing:5183241
6. Raspberry Pi 4 mini desktop case
The final design example is a desktop design from Thingiverse user James Spalding that not only looks cool, but also supports a tower cooler and an auxiliary PCB cooling fan. The latest version is also compatible with the Geekworm X862 V2 M.2 SSD expansion card.
You can find the STL files here: https://www.thingiverse.com/thing:4249203
Final Words
In short, the Raspberry Pi 4 is a powerful single-board computer, and using a 3D printer to print Raspberry Pi 4B cases is an affordable and fun way to give your project the perfect protection and custom look, so DIY electronics makers can get started anytime they like.
Elecrow is an OSHW company always focused on electronics, PCB manufacturing, PCB assembly, component sourcing, 3D printing and other maker services, Elecrow also provides Raspberry Pi education kit products for STEAM makers to achieve what they want.
For Raspberry Pi product information, we have previously uploaded blogs illustrating the latest news on Raspberry Pi stock issues, see our previously posted blogs here:
WHEN WILL THE RASPBERRY PI 5 COME OUT & BE BACK IN STOCK?
WHY IS IT SO HARD TO BUY RASPBERRY PI THESE DAYS?
__________________________________________________________________________
Btw, Raspberry Pi boards are popular and versatile tools for makers. The latest addition to the lineup, Raspberry Pi 5, is the most powerful version yet. Why not upgrade your projects with this cutting-edge device? Join our Giveaway campaign for Elecrow fans to win a brand new Raspberry Pi 5. Don't miss out! Good luck!
Elecrow Monthly RaspberryPi 5 Giveaway