The Elecrow 10.1inch IPS LCD Monitor has metal shell and loudspeaker, which could connect to the Raspberry Pi board in the back of the screen. Besides, it uses two in one power, the Raspberry Pi can be powered by screen. Thus, reduce unnecessary wires and keep you a clean desktop.
The 10.1 inch IPS LCD Monitor has a high resolution of 1280x800 pixels and can be controlled by touching and remote control. With the keys on the monitor back, you can choose control the screen by pressing the key or use the remote control-adjust its contrast or color. The monitor supports multiple video input interfaces such as HDMI, VGA and AV ,and also supports audio.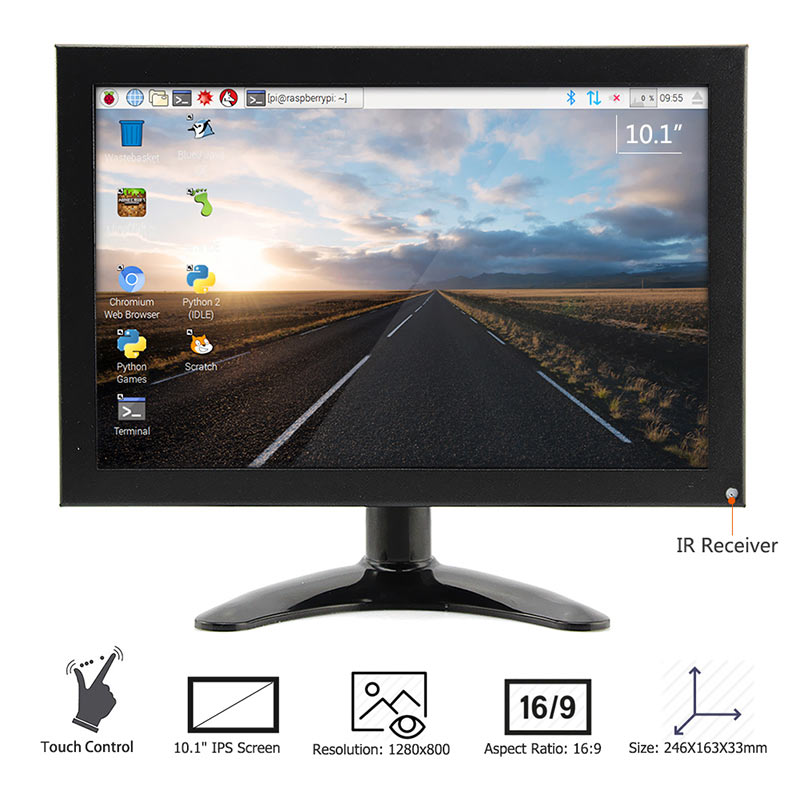 The monitor is widely used in industrial automation, intelligent computer, security, video microscopy, industrial equipment dedicated display, car reversing, etc.
Features
Supports multiple video input interfaces: HDMI, VGA, AV and VNC
High resolution of 1280x800 pixels
Support key operation and remote control
Suitable for Windows system PC and Raspberry Pi
The IPS screen features the wide visual angle, fast response speed and accurate color rendition
Equipped with reserved fixing holes for control boards-suitable for Raspberry Pi 3 model B, 2model B, and support audio speaker
High sensitivity, strong anti-jamming
Specifications
Color:Black.
Screen size: 24.3 (L) x 16.3 (W) x 4 (H) cm.
Package size: 31 (L) x 25 (W) x 7 (H) cm.
Item Weight:1600g.
Resolution:1280 x 800.
Wide viewing angle: 85/85/85/85 .
Shell: metal.
Input voltage: 12v.
Contrast ratio: 500:1
Light intensity: 300
Package list
10.1Inch HDMI IPS LCD Monitor x1
12V/2A power adapter x1
Remote control x1
HDMI cable x1
USB A to USB A cable x1
USB A to Micro USB cable x1
Acylic Board x1
Plastic Screws x4
Plastic Standoff x4
Plastic Nuts x4
Screws (M4*10mm) x4
Wiki & External links