SIM7600G-PCIE 4G global frequency band module wireless GSM/GPRS/EDGE module IoT Module
Description
The SIM7600G is Multi-Band LTE-FDD/LTE-TDD/HSPA+ and GSM/GPRS/EDGE module solution in an SMT type that supports LTE CAT1 up to 10Mbps data transfer.
SIM7600G integrates multiple satellite high-precision positioning GNSS systems, built-in multiple network protocols, and supports mainstream operating system drivers (Windows, Linux, Android, etc. USB drivers) and software functions. AT commands are compatible with SIM750OISIM7600-H series modules.
The module provides much flexibility and ease of integration for customers' applications.
SIM7600G integrates the main industry-standard interfaces and has strong scalability, including rich UART, USB, l2C, GPIO, and other interfaces, suitable for major IoT applications such as telematics, monitoring equipment, CPE, industrial routers, and remote diagnosis.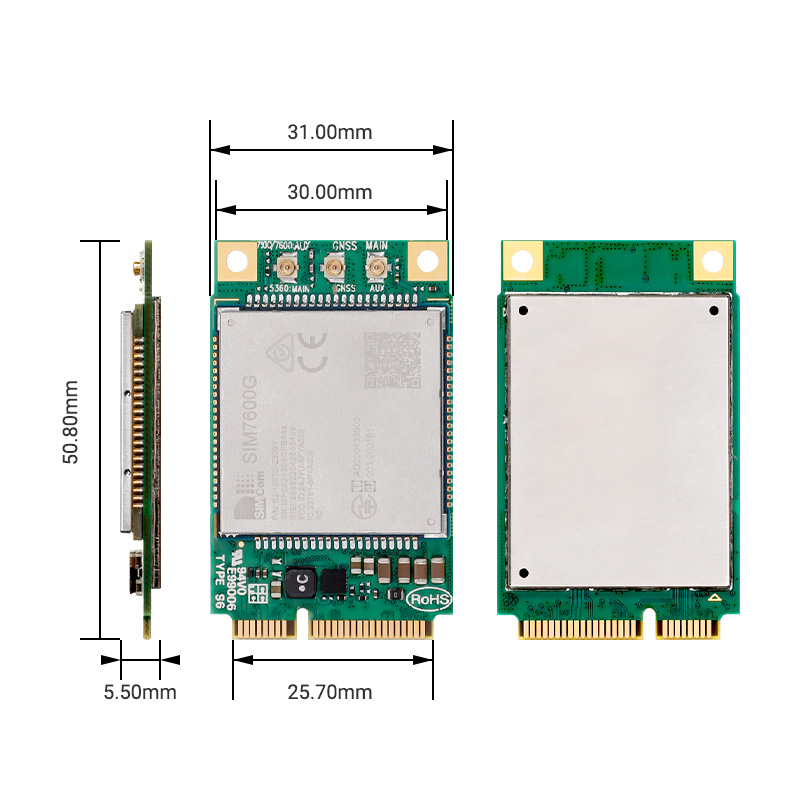 Feature
Mini-PCIE interface with strong compatibility

Suitable for LTE, UMTS, and GSM networks with global coverage

Abundant software functions: FOTA, TLS, VoLTE

AT commands of the SIM7600G are compatible with the SIM7500/SIM7600-H series modules
Specification
Supply voltage range: 3.4V ~ 4.2V, Typ: 3.8V

Control Via AT Commands

Operation temperature: -40℃ to +85℃

LTE-FDD/LTE-TDD/UMTS/HSDPA/HSUPA/HSPA+/GSM/GPRS/EDGE

0 with High speed up to 480Mbps

UART,(U)SIM card (1.8V /3.0V),MMC/SD,SDIO,ADC,I2C,GPIO

Digital Audio through PCM

Antenna: Support Primary/Rx-diversity/GNSS

Dimensions: 50.8*31.0*5.5mm

Net Weight: 12.5g
Interface

MBIM to Win8, USB Driver for Microsoft Windows 2000/XP/Vista/Win7/Win8/Win10

USB Driver for Linux /Android

RIL supporting Android 2.3/4.0/5.0/6.0/7.0

Firmware update via USB

TCP/IP/IPV4/IPV6/Multi-PDP/FTP/FTPS /HTTP/HTTPS/SMTP/SMTPS/DNS

SSL3.0/TLS1.0/TLS1.2

DTMF (Sending and Receiving)

Audio Playing

USB Audio and VoLTE, FOTA

Data

LTE CAT1

Uplink up to 5Mbps

Downlink up to 10Mbps

HSDPA/HSUPA

Uplink up to 2.2Mbps

Downlink up to 2.8Mbps

HSPA+

Uplink up to 5.76Mbps

Downlink up to 42.0Mbps

UMTS

Uplink/Downlink up to 384.0Kbps

EDGE

Uplink/Downlink up to 236.8Kbps

GPRS

Uplink/Downlink up to 85.6Kbps

Frequency

LTE-FDD

B1/B2/B3/B4/B5/B7/B8/B12/B13/B18/B19/B20/B25/B26/B28/B66

LTE-TDD

B34/B38/B39/B40/B41

UMTS/HSDPA/HSPA+

B1/B2/B4/B5/B6/B8/B19

GSM/GPRS/EDGE

850/900/1800/1900MHz
Package List
Wiki & External links